Why Some People Can't Stand Sharing A Bed
Let people hog the covers in peace.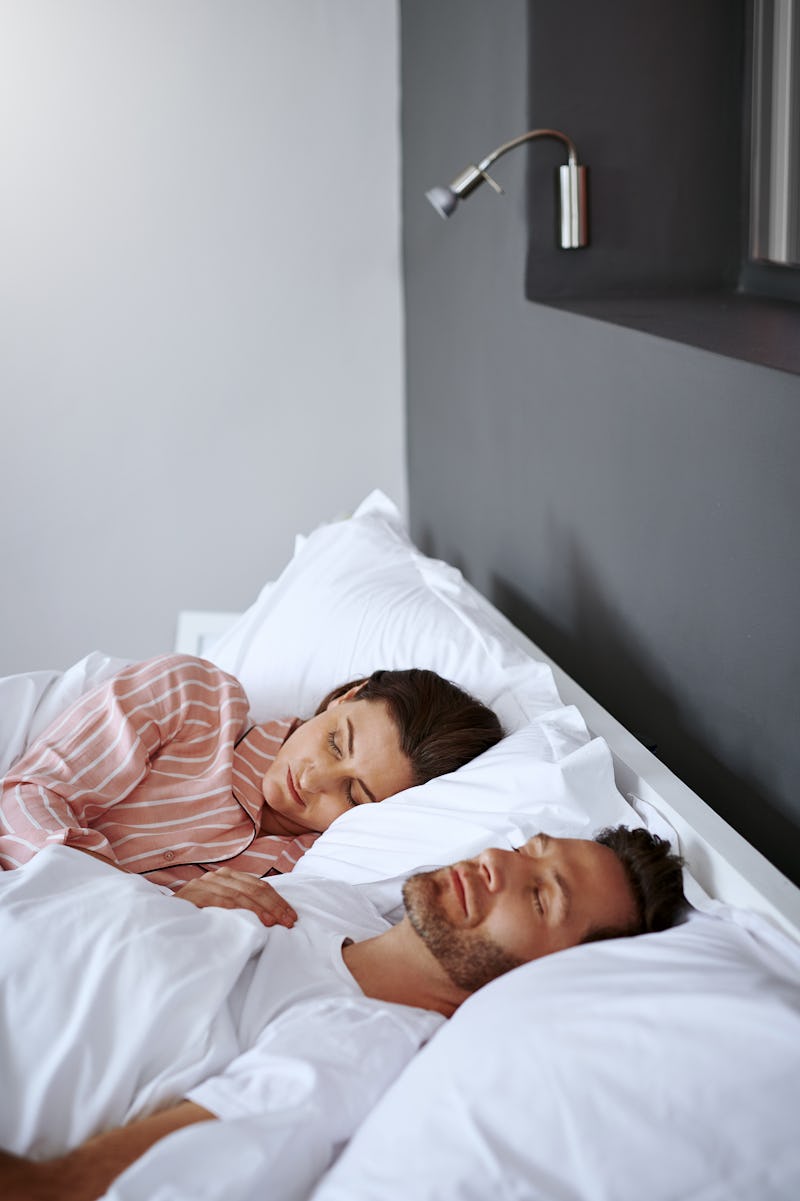 Rowan Jordan/E+/Getty Images
No matter how much you love your partner, no matter how compatible you seem, sharing a bed with someone else can be a real struggle. It can really take away from the romance when, after a few nights together, you're both so sleep-deprived you can hardly see straight. Figuring out why you can't fall asleep with your partner is a must if you want to avoid the very grumpy late night tossing and turning.
"If you have slept in your own bed your entire life, sleeping with someone else in the same bed is a huge deviation from what you are accustomed to, so your body naturally wants to fight it," says Bill Fish, a certified sleep science coach and co-founder of sleep product research company Tuck. "We also get used to not having to deal with interruptions of any sort. Now, whether it is snoring, tossing and turning, or physically touching your body, it takes getting used to."
Sure, your partner might disrupt your sleep, but experts say that doesn't mean your relationship is doomed. "Sharing a bed will take some getting used to, but once you are familiar with the experience it will begin to get easier," Fish explains. Try to make some compromises on room temperature, bedtimes, and electronic use — eventually, you may find that you can both get those full eight hours and wake up feeling rested and refreshed.
What makes it so tricky to share a bed with someone else to begin with? Here's why you might have difficulty sleeping next to someone, according to sleep experts.
Studies Referenced:
Drews, H.J. (2017) "Are We in Sync with Each Other?" Exploring the Effects of Cosleeping on Heterosexual Couples' Sleep Using Simultaneous Polysomnography: A Pilot Study. Sleep Disorders, https://www.hindawi.com/journals/sd/2017/8140672/.
Experts:
Bill Fish, certified sleep science coach, co-founder of Tuck
Michael Breus, Ph.D., clinical psychologist, sleep doctor
Martin Reed, certified clinical sleep health expert
Chris Brantner, sleep expert, founder of SleepZoo
Els van der Helm, Ph.D., founder of Shleep
Ginger Houghton, L.M.S.W., C.A.A.D.C., owner of Bright Spot Counseling
This article was originally published on