7 Ways To Find The Right Sex Toy For You Without Overspending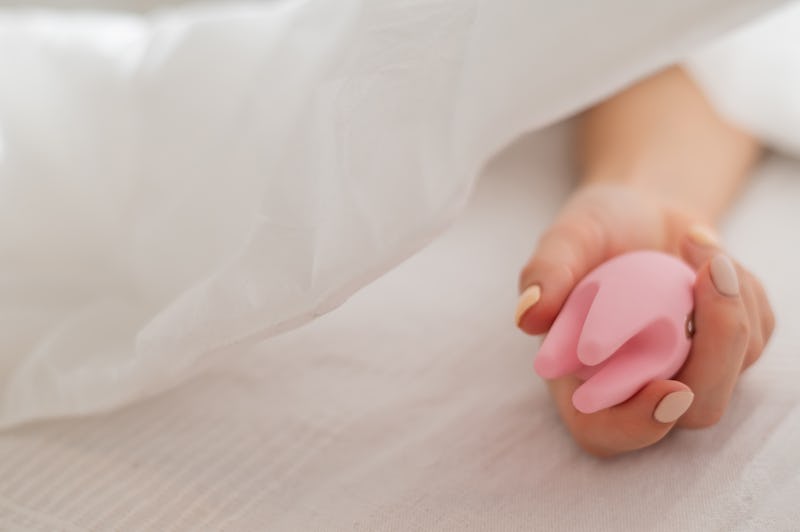 Mikhail Reshetnikov / EyeEm/EyeEm/Getty Images
Sex toy shopping is a little different than shopping for, you know, other types of toys. There are a lot of very particular and personal things to consider when doing so, not to mention a sexy cornucopia of options and varieties you probably didn't even know existed. Pleasure is boundless — which is cool and all — but that may leave you feeling overwhelmed and unsure of where to begin. The good news is that picking the right sex toy for you doesn't have to mean blowing your entire monthly budget. However, experts say, there are a few things you may want to keep in mind before you make a purchase.
"If you are curious about sex toy shopping, but a novice, don't worry," Dr. Janet Brito, a sex therapist and psychologist at the Center for Sexual and Reproductive Health in Hawaii, tells Bustle.
According to Brito, the benefits of owning a sex toy are numerous. For instance, using vibrators during solo play can help you release tension, learn more about your erogenous zones, and take your orgasms to the next level. Plus, trying out different sex toys with a partner can help to keep things fresh and exciting in the bedroom.
If you're new to sex toys, you may be hesitant about spending $150 on something that may not, you know, do it for you. According to Tara Struyk, co-founder of Kinkly, an online sex toy retailer and resource, there's an increasing number of really good budget sex toys out there. "But on the lower end of the price spectrum, there's also a lot of junk that is not only a waste of money, but possibly also unsafe to use," Struyk says.
So as you go forth trying to find the perfect toy, one that's good for you and your body, here are a few things to keep in mind.
Sources
Dr. Janet Brito, a sex therapist and psychologist at the Center for Sexual and Reproductive Health in Hawaii
Zachary Zane, sex expert and Lovehoney LGBTQ+ activist
Tara Struyk, co-founder of Kinkly
This article was originally published on