The 10 Best Positions For Having Sex In The Shower
It's about to get wet in here.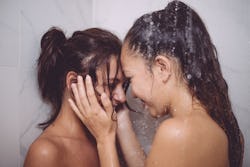 Shutterstock
When it comes to shower sex, it's a slippery slope. It seems super hot in theory, but realistically, it can easily end in one or multiple sex-related injuries. Although such a disaster can make for a great story, it can also be a bad situation. Some injuries can take weeks to recover from, putting your whole sex life on hold. No one wants that.
But while shower sex comes with its own set of dangers, it's still something that some people want to try at least once — if only to cross it off a sex bucket list, which, yes, some of us totally have. For others, it could simply be because they need some spice in their life and the shower looks more intriguing than the kitchen table. (Although they're both equal in their fun factor, TBH.)
But how does one go about having safe and fun shower sex that's actually enjoyable and won't put themselves or their partner in the hospital?
Positions. It's all about choosing the best shower sex positions and skipping the soap. You can lather up after you've successfully had sex without falling; you don't need to throw something else into the mix that's going to up the potential for injury. "Here are the main things to negotiate about shower sex," Carol Queen, Ph.D., staff sexologist at Good Vibrations, tells Bustle: "Finding comfortable and enjoyable positions, including ones that don't get water in your eyes, and making sure you are stable (not all positions will be equally safe when it comes to slipping and falling)." Before you even think about shower sex positions, there are several safety precautions to keep in mind while you get dirty as you get clean, as they say.
Safe Shower Sex Do's And Don'ts
Do: Practice
"Practice standing sex positions outside the shower," notes Queen. They suggest getting very familiar and good at those "before moving into an environment that's slippery."
Do: Ensure Sturdy Equipment
"Check the shower you want to have sex in for stable places to lean [or] sit," Queen advises. "Showers are really different from one another as regards these things, and always remember: Most of the elements of the shower aren't designed to be handles.". That means realizing that no, the soap dish is not meant to hold the weight of your leg as a step for your foot, and the curtain bar and pipes are not handles. "They might come right off! Be careful," warns Queen. "Bars intended to make the shower more accessible might be stable enough for support during shower sex, but test them before you start," she advises, pointing out that you should also not lean on sliding glass shower doors.
As some of the best shower sex positions involve sitting or kneeling — more on that later — Queen also recommends bringing a yoga mat or gardening foam pad into the stall with you. "It will facilitate comfort and safety," they tell Bustle. You also can simply purchase a grippy shower mat for the bottom of your tub.
Do: Clean Your Shower
Maybe shower scum and hair balls are not as off-putting for some people, but it's safe to say that these don't exactly help create an environment conducive to getting it on. "There's nothing sexy about things we don't want to see in a shower," Dr. Martha Lee, D.H.S., relationship counselor, clinical sexologist, and founder of Eros Coaching, tells Bustle. Amen to that. "Get rid of any lingering odors, and tidy up razors, toothpaste, and shower gels to accident-proof your bathroom."
Don't: Mistake Water For Lube
Yes, the point of lube is to make the situation more wet. But water is not and will never be lube, as agreed upon by both Queen and Lee. "A silicon-based waterproof lube will reduce friction and facilitate anal and vaginal penetration more easily," notes Lee, who also warns against attempting to use soap as lube, as it is not meant to enter your body.
However, if you're using silicone toys, Queen cautions that silicon-based lube may not be your best choice, "but you could cover the toy with a condom to make it safe."
Don't: Stay Wet Too Long
Aside from the fact that standing there like a wet dog can get draining (pun intended), Lee says to avoid getting down in the shower for too long. "Damp nether regions are a breeding ground for bacteria and fungi," she says. "Be sure to dry off well after shower sex." As steamy as shower banging until you're pruney all over sounds, your body will thank you for continuing in a dryer environment. Think of it like a bar: You don't have to go home — aka stop having sex — but you can't stay here (move it to the bed, people).
Now that safety measures are out of the way, here are ten shower sex positions you'll want to give a try.
Ultimately, if you do it right, shower sex can be a lot of fun. But it's really important to choose your positions wisely, keep slippery things out of it until afterward, and realize the importance of steadying yourself with the wall or floor. It also helps if you know, going into it, that it's going to be a bit tricky. Then you can at least have a laugh when you both end up on the floor — if that should be the case.
Experts:
Carol Queen, Ph.D., staff sexologist at Good Vibrations
Dr. Martha Lee, D.H.S., relationship counselor, clinical sexologist, author, and owner of Eros Coaching
This article was originally published on