9 Signs You're Chemically Bonded To Your Significant Other
Love can affect your body in some wild ways.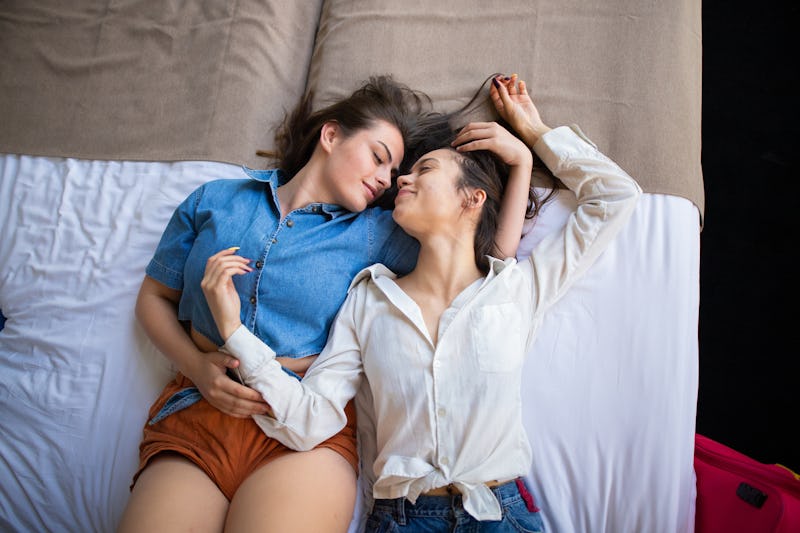 Jovan Doncic/E+/Getty Images
Falling in love can make you feel all sorts of wonderful things. Your heart may race whenever your partner is near and you might even butterflies-in-your-stomach feelings. But as magical as love can be, it's grounded in some pretty fascinating science. Although it may sound a little strange, you can be chemically bonded to their partner.
As licensed psychologist Danielle Forshee, PsyD previously told Bustle, love is extremely tricky to define and measure due to how subjective it is. Some see falling in love as a completely psychological phenomenon, but biology and chemicals play a big role in it as well.
For instance, when you meet someone you really like, your body releases "attraction hormones" such as serotonin, dopamine, and norepinephrine. These are the hormones responsible for giving you those feelings of euphoria when you're really into someone.
Then there's oxytocin, a hormone that's associated with relationship-building, sex, trust, and empathy, gets released when couples hug, kiss, or cuddle. "This hormone is linked to fuzzy, warm, calming feelings, promotes bonding, well-being, and love, and some studies have shown it to lower anxiety and stress," neuropsychologist Dr. Sanam Hafeez, tells Bustle. "When feelings of happiness and calmness occur during these physical interactions, these feelings become associated with a particular person. Therefore, it may be hard not to feel chemically bonded to the cause of that association."
It's no secret that love can affect your body in different ways. Many of which, you probably don't even realize. So here are some signs that you and your partner are chemically bonded together, according to science.
Studies Referenced
Saxbe, D. & Repetti, R.L. (2010) For Better or Worse? Coregulation of Couples' Cortisol Levels and Mood States, Journal of Personality and Social Psychology. http://www.celf.ucla.edu/2010_conference_articles/Saxbe_Repetti_2010a.pdf
Wlodarski, R. & Dunbar, R.I.M. (2013) Examining the Possible Functions of Kissing in Romantic Relationships. Archives of Sexual Behavior, https://www.sciencedaily.com/releases/2013/10/131010205142.htm
Melton, K. & Boccia, P. (2019) Examining Couple Recreation and Oxytocin Via the Ecology of Family Experiences Framework. Journal of Marriage and Family, https://www.baylor.edu/mediacommunications/news.php?action=story&story=206875
Sources
Dr. Jess O'Reilly, sexologist
Dr. Tracey M. Phillips, therapist
Danielle Forshee, PsyD, licensed psychologist
Dr. Sanam Hafeez, neuropsychologist