13 Texts To Send Someone Having A Bad Day
"Postmating Thai food to you now."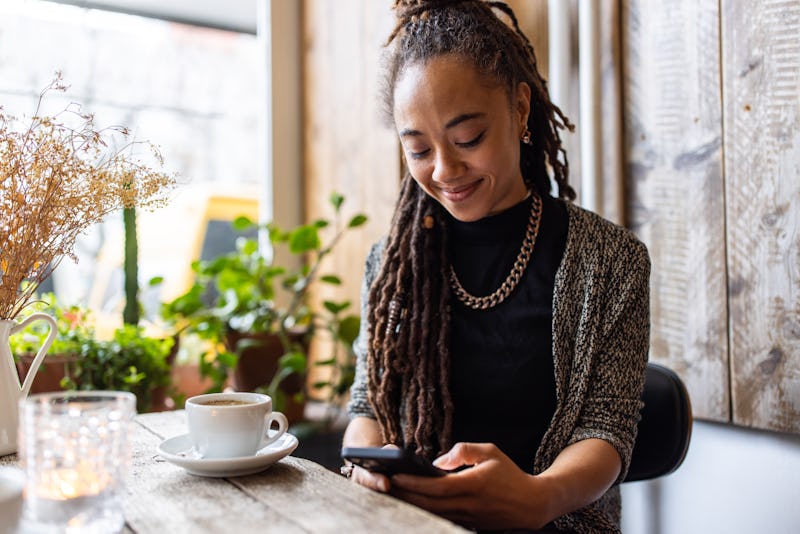 alvarez/E+/Getty Images
Comforting a distressed friend can take many forms, from giving them a loving embrace to buying a round at your favorite dive bar to sending them a heartfelt message. And since we can't be at our bestie's side all the time, knowing a few texts to send someone having a bad day can help you support your loved ones when you can't be together in person. Whether your best friend is struggling with working from home or fighting with their significant other, being there for the people in your life can make even their worst days feel a little bit easier.
According to friendship expert and author of We Should Get Together: The Secret to Cultivating Better Friendships Kat Vellos, there are four main ways friends can offer support: emotional, tangible, informational, and companionate. "Emotional support looks like giving someone love, affection, caring, empathy, words of affirmation, and other interactions that bring out all the warm and fuzzy feelings," Vellos tells Bustle. Tangible support is concrete and direct, such as giving your friend a physical object or money via Venmo to buy a coffee. "Think: Ordering a delicious meal to be delivered to them or dropping off a home-cooked meal at their door," says Vellos.
Giving advice, recommendations, and helpful research on a topic for a friend falls under informational support, which should only be done when it's specifically asked for. And the last category, companionate support, is "about being present with someone in a way that helps them feel a sense of belonging and acceptance, like simply being together when you know they're having a hard day," Vellos explains.
Putting in the effort to connect even when you're not together can remind your bestie that they are not alone. "When you reach out, you can offer your friend a few ideas for support from these different categories," Vellos says. "Or, if you know them really well, be proactive and just do the thing that you know will matter to them the most."
From movie suggestions to extra compliments, here are 13 expert-backed texts to send someone having a bad day — because let's face it, we all have bad days from time to time, but any day can be made better by receiving a sweet message from your best friend.
The most important thing to keep in mind when it comes to what to say to someone having a bad day is to think about what that specific person would like best. There's a plethora of ways to offer up your support, so tailoring your response to the personality and emotions of your bestie is the best way to go about sending your love.
Studies referenced:
Uchino, B. N., Vaughn, A. A., Carlisle, M. K., & Birmingham, W. (2012). Social Support and immunity. Oxford Handbooks Online. https://doi.org/10.1093/oxfordhb/9780195394399.013.0012
Expert:
Kat Vellos, friendship expert and author of We Should Get Together: The Secret to Cultivating Better Friendships
This article was originally published on