25 Therapist-Approved Texts To Send A Friend With Anxiety
"I won't be insulted if you can't hang out."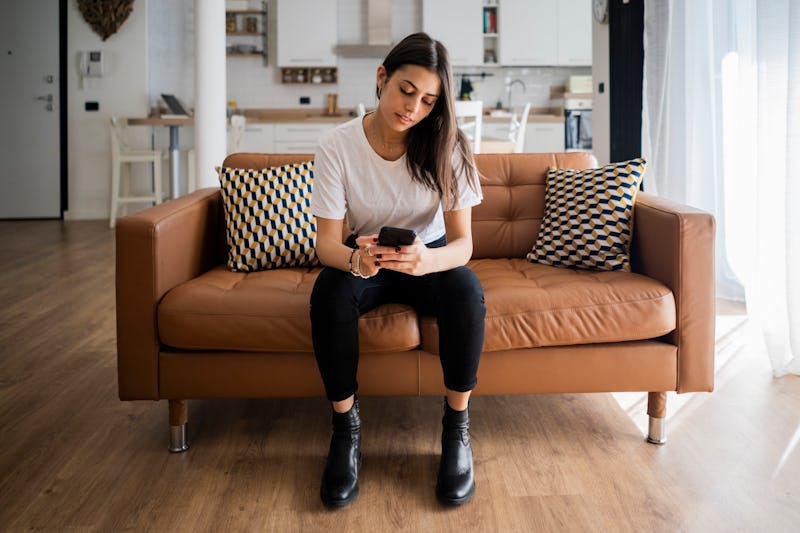 Getty Images/ Westend61
Generic texts of the "hey, how are you" variety are always a welcome sight. But if you're texting a friend who has anxiety — particularly one who's been having an extra tough time — take it as an opportunity to show a little extra love and support.
"Anxiety can really send people to a dark place," says Alexa Shank, MS, LPC, CEDS, a psychotherapist and owner of Relief & Recovery Psychotherapy. A friend with anxiety might feel alone, overwhelmed, or completely consumed with worry. And even though a text certainly won't cure them, it really could offer a brief moment of support or relief.
Many folks with anxiety also find it hard to reach out on their own to ask for help, Shank says, which is why a quick text can serve as a way to start a helpful convo. If you haven't heard from your friend in a while, or if you sense that they've been covering up how they feel, be the one to reach out and see if they need anything.
"Checking in and offering non-judgment and concern can feel extremely validating and reassuring to those who might feel alone," Shank tells Bustle. "Additionally, unlike a phone call, they can re-read your text multiple times if they start to feel down or lonely again." Here, 25 sample texts to send to a friend with anxiety that fit a variety of situations.
Experts:
Alexa Shank, MS, LPC, CEDS, psychotherapist
Kara Kushnir, MSW, LCSW, psychotherapist
Tom Jones, APC, MAMFT, mental health expert and clinician
Dr. Kimberly Martin, clinical psychologist
Mahesh Grossman, CCHt, certified clinical hypnotherapist
Katie Sammann, LMFT-Associate, licensed therapist
Marjorie Cooper-Smith, MSW, LICSW, psychotherapist
Kathryn Grooms, LCSW-R, licensed clinical social worker
Thomas DiBlasi, PhD, licensed clinical psychologist
Bette Alkazian, LMFT, licensed marriage and family therapist
Dr. Sabrina Romanoff, clinical psychologist and professor
This article was originally published on