Thesis Nootropics Helped Me Ditch My 3-Coffee-A-Day Habit
Here's what to know about the personalized supplement brand.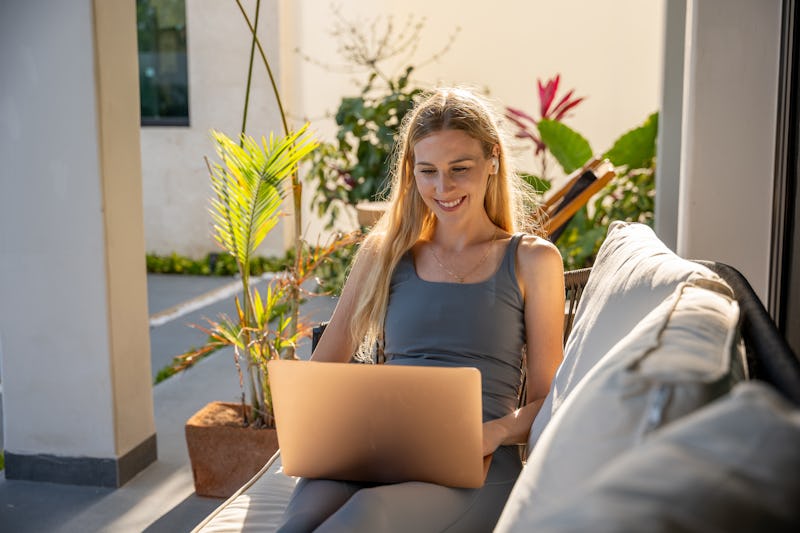 Getty Images/Mystockimages
We may receive a portion of sales if you purchase a product through a link in this article.
As someone who pours herself a tall glass of iced coffee three times a day — and sometimes even more, oops — I figured it wouldn't hurt to look into other ways to boost my energy and focus. Of course, I also try to get enough sleep, water, and exercise, too. But I was also down to try a few supplements from Thesis, a nootropics company that aims to make you feel more productive with its plant-based blends.
If you're not familiar, nootropics are similar to adaptogens in that they're a class of functional plants that are buzzy in the wellness world. But nootropics — which include ingredients like ashwagandha, L-theanine, choline, and functional mushrooms — are more focused on activating different parts of your brain to support motivation, mood, memory, and cognitive processing. That's why they're sometimes called smart drugs or cognitive enhancers — and thus have a different role to play than everyday vitamins.
At Thesis, you're hooked up with a kit of personalized vitamins, adaptogens, and nootropics that are meant to help support you in accomplishing your goals and feeling more energized and productive. I tried them out for a month and I have some thoughts. Here's what it was like to try Thesis, in case you're also a coffee fiend who could use a little more focus and energy.
Fast Facts
Price: $79/monthly subscription
Best for: Energy, focus
My rating: 4/5
What we like: Personalized supplements, supportive coaches
What we don't like: Can seem pricey, you have to be ready for some trial and error
What Is Thesis?
To get started, you'll first take a quiz on the Thesis website that asks you about how you feel on a day-to-day basis, how much coffee you drink, what your energy levels are like, and how much you sleep (among other lifestyle questions) so that it can determine the best supplements for you. It'll then send you a starter kit with six different supplement blends targeted for each issue you might be experiencing. From there, it's up to you to decide which ones you want to continue using. It works like a process of elimination — you experiment by taking each supplement for six days to see whether or not it feels effective.
The Thesis line features eight different supplement blends: Creativity, Focus, Motivation, Clarity, Energy, Motivation, Confidence, and Logic. Though the brand notes it would love to formulate one pill that works for everyone, brain chemistry is so complex, so it decided it's better to take the long route and have customers try multiple supplements in order to find the best fit for their noggin. That's why Thesis also puts you in contact with a wellness coach, so you can chat and ask questions with an expert along the way.
How Do Nootropics Work?
Nootropics are meant to allow your brain to do its thing, only faster and with more efficiency. So, instead of slogging away at your desk with brain fog, you might notice that you feel perkier, extra organized, and more on-point than you normally do as you continue taking the supplements.
Some of the blends contain the nootropic acetylcholine, which is a neurotransmitter from the essential nutrient choline known for memory, learning, and healthy brain function. There are also plenty of amino acids, vitamins, and plant-based adaptogens in each packet to fight off fatigue and stress while protecting your brain from toxins so it's easier to take in info — and actually remember what you learned. Other staple nootropics include ginkgo biloba, certain kinds of mushrooms, and caffeine, each of which plays a unique function in your cognitive function.
My Experience
When I took the Thesis quiz, I said that I wanted to improve my energy, focus, and mood. A few days later, I received my starter kit, which contained Clarity, Confidence, Motivation, and Logic all laid out in cute little boxes. You're supposed to pick one — each box contains six sachets full of pills — and take a packet a day for six days. I was immediately drawn to Clarity, a supplement combo that's supposed to help with high-pressure situations, concentration, and tasks that require focus and attention. It has Lion's Mane extract (a mushroom), caffeine, L-theanine, and a few other ingredients meant to support a calm, focused flow. The idea is to take the supplements in the morning so they kick in before you start your day, and most of the effects are said to last from four to six hours.
I'd been taking Clarity for a few days when I had a phone call with Cindy Yan, a Thesis wellness coach and nootropics expert. We chatted about my usual routine, how I'd been feeling, and any questions I had about the process. When I said I felt a slight uptick in focus, but nothing too dramatic, Yan told me the first couple days are called the "loading phase" which is when the nutrients work their way into your body. If you don't feel anything after that point, it's a sign the supplement isn't necessary or right for your neurochemistry. If you do like how you feel, it's a keeper.
As we chatted about my routine, Yan realized I'd benefit from Creativity, an ashwagandha-based supplement meant for brainstorming and public speaking, so that I could feel like a rockstar at work. I also told her that I tend to crave a nap around 3 p.m., so she suggested the Energy supplement made with choline and mango leaf extract, which you can take every day or on extra-busy days, before a workout, or whenever you want to feel alert.
Talking to a coach as I tested the supplements was a true perk. While the quiz got me started with some great options, having access to Yan helped me hone in on what I truly needed.
My Results
Yan suggested I log how I felt every day as I took each supplement so I could keep track of any noticeable differences. A week in, I looked at the scribbles in my notebook and noticed that I did seem more productive during the six days I took Clarity. I wasn't launching rockets to the moon, but I was getting through my emails and typing away like a woman on fire.
The next supplement on my agenda was Energy, a blend meant for busy days, intense workouts, and staying alert thanks to its mango leaf, theacrine, caffeine, and n-acetyl cysteine — and this is the one that gave me the most benefit. Yan was right on the money. She said I could take it in the morning and/or right after lunch to nip my afternoon slump in the bud, and it truly worked — no fourth mid-day coffee for me.
The more I took Energy, the less I felt like I needed to unhinge my jaw and dump as much cold brew into my face as possible. I found myself drinking a sensible cup or two in the morning, and that was that. Thesis says you can feel the effects of the supplements in as little as 30 minutes or it can take up to five days for all the benefits to sink in as your body and brain adjust. For me, though, Energy kicked in pretty quickly.
The Bottom Line
Typically, Thesis users land on two or three supplements for their regimen. After the month-long trial phase, you can order just the ones you want and forget about the rest. Personally, I'm sold on Energy and can see myself hanging onto Clarity, too.
Thesis seems to have figured things out in the nootropic supplement realm. While the boxes seem pricey, it isn't so bad when you think about buying each supplement on your own individually — and the fact that you get a wellness coach, too.
TL;DR: I'd recommend it for anyone who feels fatigued, unproductive, or unfocused, or for folks who rely on caffeine to get through the day, like me. You might just find that there's a better way.
Studies referenced:
Baba, Y. (2021). Effects of l-Theanine on Cognitive Function in Middle-Aged and Older Subjects: A Randomized Placebo-Controlled Study. J Med Food. doi: 10.1089/jmf.2020.4803. Epub 2021 Mar 22.
Coqueiro, AY. (2019). Glutamine as an Anti-Fatigue Amino Acid in Sports Nutrition. Nutrients. doi: 10.3390/nu11040863.
Gelabert-Rebato, M. (2019). A Single Dose of The Mango Leaf Extract Zynamite® in Combination with Quercetin Enhances Peak Power Output During Repeated Sprint Exercise in Men and Women. Nutrients. 2019 Oct 28;11(11):2592. doi: 10.3390/nu11112592.
Lai, PL. (2013). Neurotrophic properties of the Lion's mane medicinal mushroom, Hericium erinaceus (Higher Basidiomycetes) from Malaysia. Int J Med Mushrooms. doi: 10.1615/intjmedmushr.v15.i6.30.
Malík, M, Tlustoš P. Nootropics as Cognitive Enhancers: Types, Dosage and Side Effects of Smart Drugs. Nutrients. 2022 Aug 17;14(16):3367. doi: 10.3390/nu14163367. PMID: 36014874; PMCID: PMC9415189.
Mokhtari, V. (2017). A Review on Various Uses of N-Acetyl Cysteine. Cell J. doi: 10.22074/cellj.2016.4872.
Penry, JT. (2008). Choline: an important micronutrient for maximal endurance-exercise performance? Int J Sport Nutr Exerc Metab. doi: 10.1123/ijsnem.18.2.191.
Sam, C. (2022). Physiology, Acetylcholine. In: StatPearls [Internet]. Treasure Island (FL): StatPearls Publishing; 2022 Jan–. PMID: 32491757.
Silberstein, R. B. (2010). Examining Brain-Cognition Effects of Ginkgo Biloba Extract: Brain Activation in the Left Temporal and Left Prefrontal Cortex in an Object Working Memory Task. Evidence-based Complementary and Alternative Medicine : ECAM, 2011. https://doi.org/10.1155/2011/164139
Suliman, NA. (2016). Establishing Natural Nootropics: Recent Molecular Enhancement Influenced by Natural Nootropic. Evid Based Complement Alternat Med. doi: 10.1155/2016/4391375.
Todorova, V. (2021). Plant Adaptogens-History and Future Perspectives. Nutrients. doi: 10.3390/nu13082861.
Wiedeman, AM. (2018). Dietary Choline Intake: Current State of Knowledge Across the Life Cycle. Nutrients. doi: 10.3390/nu10101513.