14 Romantic Valentine's Day Dates You Can Do Over Zoom
Don't let distance get in the way.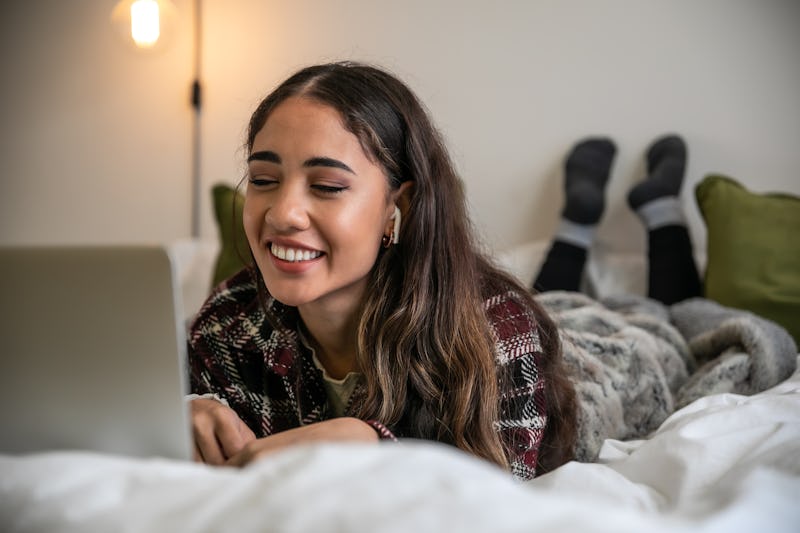 Christelle Leuvennink/E+/Getty Images
When it comes to long-distance dating, nothing says "I love you" like Postmates and FaceTime. But if you're spending February 14 apart, you might feel the urge to step it up a notch and do something a bit more special. If that's the case for you and your SO, these virtual Valentine's Day ideas for celebrating with a long-distance partner are sure to heighten your connection — emotionally and remotely.
If absence makes the heart grow fonder, long-distance dating in these times is about as fond as it can get. With potential exposures and social-distancing orders still around, it can be challenging when you and your partner have to spend time apart, be it for health and safety reasons or maybe just specific circumstances in your lives. However, video chatting means you won't miss a beat, and these at-home dates are sure to keep your romance remote and fun at the same time.
When it comes to figuring out how to celebrate Valentine's Day virtually, just think about what you would like to do if you were together IRL. For some major V-Day inspo — everything from a virtual wine tasting to a joint candle-lit astrology reading — here are 14 Zoom Valentine's Day dates for you and your long-distance lover.
This article was originally published on