How To *Actually* Follow Your Intuition
Don't ignore the signs your body is sending you.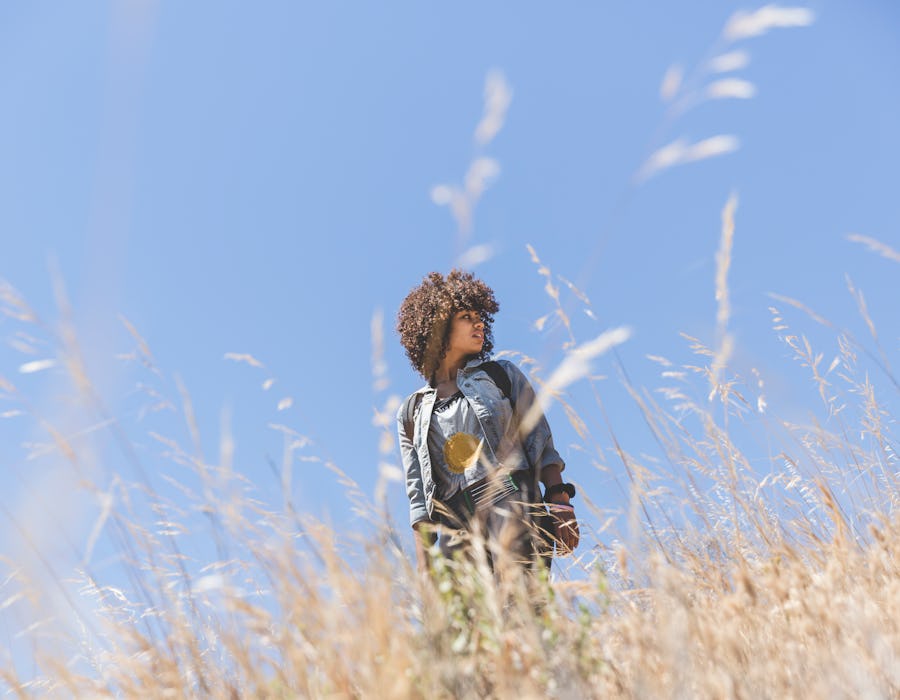 The Good Brigade/DigitalVision/Getty Images
Sometimes you get a strong feeling that now the right time to pursue something, but you still wonder if it's worth the risk. And whenever you ask your friends, they sagely encourage you to "trust your gut." That's all well and good, but when you don't know how to follow your intuition in the first place, it's not necessarily the most helpful advice. Figuring out how to know when your intuition is talking to you can be difficult for some. And spoiler: That gut feeling can actually be pretty helpful.
"Intuition is that sneaking suspicion that you feel when something is not right, but you can't put your finger on why," licensed clinical psychologist Sarah Schewitz, Psy.D., tells Bustle. "Intuition can be a powerful guiding force and is more developed for some than others. Some people feel a strong urge or sense in their core when something is wrong, while others with a less developed intuition might feel a small inkling that they aren't really sure how to interpret."
It's OK if you're not sure whether those butterflies in your stomach mean "take the leap!" or "run away" — intuition could potentially be telling you either of these things. You also might get your intuition confused with your scared ego and maybe even an inferiority complex, as Julie Holmes, a New York city-based life coach, explains.
"When you're taking risks in life that feel bigger than maybe what you think you can handle, there will always be some sort of resistance," Holmes tells Bustle. "The scared ego usually shows up when you're about to do something new and different in your life, but in the end [it will] be beneficial. It could be a job promotion, being more social, or doing something outside of your comfort zone. Scared ego is usually scared of either failure or rejection." If you're doing something out of fear that you're not good enough, Holmes says, you might want to go in the other direction.
Learning to listen to your gut feeling has a lot to do with trust — which can be hard when fear is involved. "To follow your intuition means that you do not have to put conscious thought into making a decision," says Brooklyn-based therapist Bernie Crowl, MHC-LP. "It simply comes naturally and with no judgment."
Of course, as Crowl explains, not judging yourself is easier said than done, especially when many people have been taught not to trust their own judgment. In fact, licensed psychotherapist Jaime Mahler says that she sees lack of self-trust as a major phenomenon in her millennial and Gen Z clients. "A cultural narrative that I see weaving through a lot of us — especially millennials and Gen Z — is that we struggle with trusting ourselves," Mahler tells Bustle. "When there's a struggle with self-trust, there's most likely going to be a struggle with intuition, too, because that's part of it."
So, how are you supposed to trust your gut if you're not sure if you should trust yourself? Whether you want to know how you can follow your gut or learn to be more self-aware, here are 14 ways to know if your intuition is trying to tell you something and how to listen to it.
Following intuition can be tricky, but there are definitely ways to train yourself to be more aware of when your gut is talking to you and when to trust it. As with most things related to internal reflection, putting in effort and trying to be honest with yourself is the first step. The more you listen to your intuition, the happier and secure you'll likely feel about the choices you make.
Studies referenced:
de Heer, E. W., Palacios, J. E., Adèr, H. J., van Marwijk, H., Tylee, A., & van der Feltz-Cornelis, C. M. (2020). Chest pain, depression and anxiety in coronary heart disease: Consequence or cause? A prospective clinical study in primary care. Journal of psychosomatic research, 129, 109891. https://doi.org/10.1016/j.jpsychores.2019.109891
Berry, A. S., Jagust, W. J., & Hsu, M. (2019). Age-related variability in decision-making: Insights from neurochemistry. Cognitive, affective & behavioral neuroscience, 19(3), 415–434. https://doi.org/10.3758/s13415-018-00678-9
Pronin, E., Olivola, C. Y., & Kennedy, K. A. (2008). Doing unto future selves as you would do unto others: psychological distance and decision making. Personality & social psychology bulletin, 34(2), 224–236. https://doi.org/10.1177/0146167207310023
Settineri, S., Frisone, F., Alibrandi, A., & Merlo, E. M. (2019). Emotional Suppression and Oneiric Expression in Psychosomatic Disorders: Early Manifestations in Emerging Adulthood and Young Patients. Frontiers in psychology, 10, 1897. https://doi.org/10.3389/fpsyg.2019.01897
Jaeger, B., Evans, A. M., Stel, M., & van Beest, I. (2019). Explaining the persistent influence of facial cues in social decision-making. Journal of experimental psychology. General, 148(6), 1008–1021. https://doi.org/10.1037/xge0000591
Paulson, S., Barrett, D., Bulkeley, K., & Naiman, R. (2017). Dreaming: a gateway to the unconscious?. Annals of the New York Academy of Sciences, 1406(1), 28–45. https://doi.org/10.1111/nyas.13389
Experts:
Sarah Schewitz, Psy.D., licensed clinical psychologist
Julie Holmes, New York city-based life coach
Bernie Crowl, MHC-LP, Brooklyn-based therapist
Jaime Mahler, licensed psychotherapist
Lillyana Morales, L.M.H.C., psychotherapist
Jill MacFadyen, M.S.I.R., A.C.C., career coach
Anita Marchesani, Ph.D., licensed psychologist
Thomas John, celebrity psychic medium
This article was originally published on