David Beckham's Controversial Qatar Deal Skyrocketed His Net Worth
Here's the lowdown on the footballing legend's millions.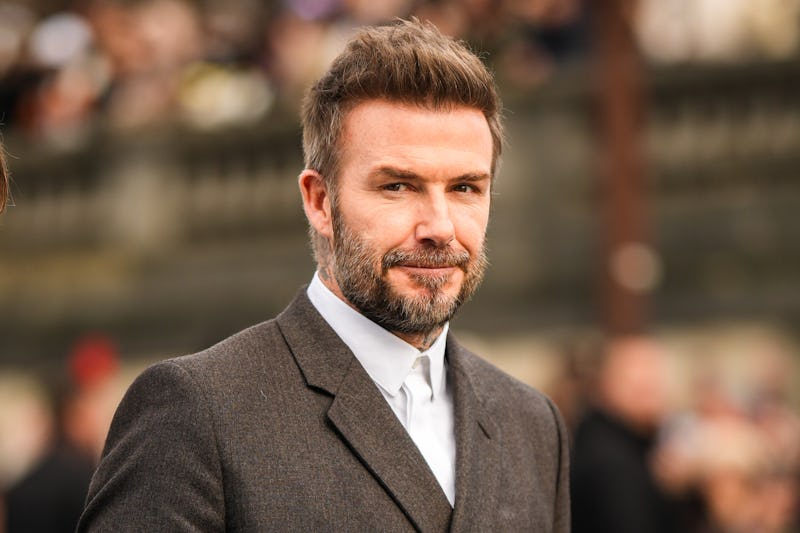 Getty Images/Edward Berthelot
The FIFA World Cup in 2022 may have kept the hype going around football players like Kylian Mbappé and Lionel Messi, but there's no forgetting that David Beckham has always been one of the world's best-known football icons. Signing on professionally at the tender age of 17, Beckham very quickly made his mark as one of the greatest players of his generation. He also married singer and former Spice Girl Victoria Adams, forming quite the power couple in 1999.
Given the glitz of his life and career, you would absolutely be right in thinking that Beckham is probably rolling in some serious dough. And so, here's a look into Beckham's net worth and how exactly he makes his money.
5 Ways David Beckham Makes His Millions
1. Professional Football
As one of the most famous and recognisable people in the world, it is no exaggeration to say that Beckham is also one of the world's richest athletes. He debuted with Manchester United in 1992, staying with the football club for over a decade before moving on to Real Madrid from 2003 to 2007.
He then moved to Los Angeles to play for LA Galaxy until 2012, with two loan spells to AC Milan from 2009 to 2010. In 2013, Beckham made his final professional move to Paris Saint-Germain, announcing that same year that he would retire at the end of the French football season.
Though his initial earnings back in 1992 did not even hit £12,000 a year according to footballer Keith Gillespie, by 2003 Beckham's club salary with Manchester United was at almost £4.6 million.
Joining Real Madrid then earned him €37 million for his four-year-contract, which is approximately £6 million per year. LA Galaxy then paid Beckham £128 million for five years with a base salary of $6.5 million (approximately £5.3 million). His deal also included a percentage of LA Galaxy's revenues. Finally, his five-month deal with Paris Saint-Germain was worth at least £1 million — though Beckham donated his salary to a French children's charity, receiving only the French minimum wage of €2,200 a month.
By the time Beckham retired in 2013, it was estimated that he had been paid $800 million (£64.7 million) during his footballing career.
2. Football Club Ownership
As part of his contract with LA Galaxy, Beckham has the right to an expansion team, and he exercised his option in 2014, buying a Major League Soccer expansion team for $25 million. Known as Inter Miami, the team began play in 2020 and is valued at between $600 to $650 million, with an annual revenue of $23 million.
In early 2019, Beckham also became the co-owner of the National League club Salford City.
3. Business & Investments
Using his own management company DB Ventures, Beckham handles other business opportunities such as brand endorsements and deals, as well as his side hustle whiskey brand, Haig Club. He must be a pretty good businessman as well, because according to Insider, Beckham was paid a dividend of $17.2 million in 2019.
In 2022, The Times reported that he was to sell a 55% stake of DB Ventures to Authentic Brands Group, which owns Reebok, Juicy Couture, and many more. A deal which could bag him upwards of $230 million (£186 million).
4. Endorsements
Of course, brands have been vying to plaster Beckham's face all over their marketing since the '90s, and the footballer has worked with the likes of Armani, Adidas, Breitling, Maserati, H&M, and Pepsi.
For example, Beckham is reportedly paid upwards of $300,000 per social media post by Tudor. His lifetime endorsement deal with Adidas back in 2003 was signed for $160 million, and he also earns a percentage of profits from his campaigns. According to the Mirror, in 2020 he also signed a five-year contract with Guild Esports for at least $19.7 million, as well as another with EA Sports worth $55 million.
5. Qatar World Cup
In what is likely his most scrutinised partnership, Beckham signed on to become the face of the 2022 World Cup — a 10-year deal which is worth up to $277 million (£150 million).
This endorsement deal was heavily criticised due to Qatar's record of human rights violations, homophobic laws, and discrimination against women. Through this partnership, Beckham has signed on to be a culture and tourism ambassador for Qatar, which many have criticised as an endorsement of the country's discriminatory practices as well.
Following comedian Joe Lycett calling him out and "shredding" £10,000 in protest, Beckham's team has issued a statement regarding his Qatar deal, saying that the 46-year-old has "always believed that sport has the power to be a force for good in the world," and that they "see it as positive that debate about the key issues has been stimulated directly by the first World Cup being held in the region."
What Is David Beckham's Net Worth?
Celebrity Net Worth has pinned the football icon as being worth a total of $450 Million (£364 million) alongside his wife, Victoria.