All The Ways You Can Watch The Super Bowl In The UK
Plus the half-time show, headlined by the one and only Rihanna.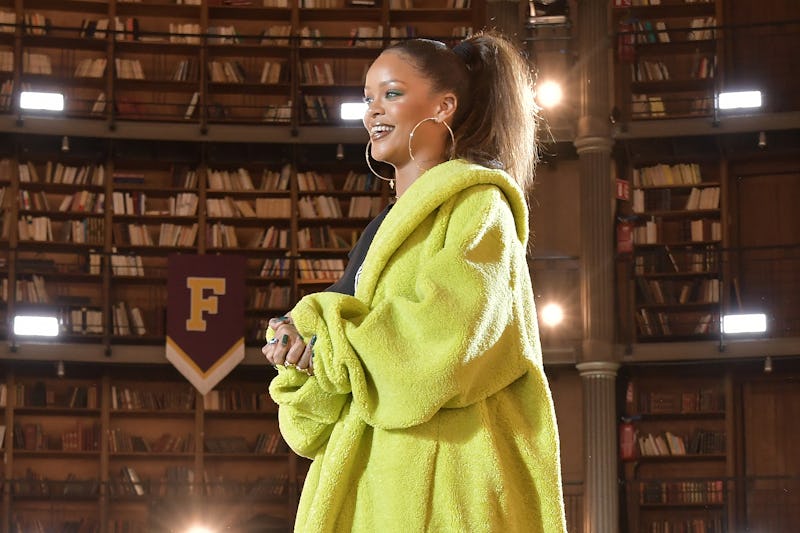 WWD/Penske Media/Getty Images
Well, it's that time of year again as NFL lovers gear up for the event of the season, Super Bowl Sunday. And music lovers eagerly anticipate the spectacle that is the half-time show. Back for Super Bowl LVII (57), the Kansas City Chiefs are going up against the Philadelphia Eagles in Glendale, Arizona at the Cardinals' 63,000-capacity State Farm Arena.
The Chiefs reached the finals after defeating 2022's winning team the Cincinnati Bengals in the AFC Championship game. The Eagles, on the other hand, made the top two by battling it out with the San Francisco 49ers. While the Kansas Chiefs have won the trophy twice in the past, it's only the second time that Philadelphia has made it to the final after winning its maiden trophy in 2018.
For sports (and entertainment) enthusiasts in the UK wondering how to watch the Super Bowl, look no further.
How Can You Watch The Super Bowl 2023 In The UK?
You'll probably want to drink a coffee to keep yourself awake because as usual the time difference means the Super Bowl will begin on Feb. 12, 2023 at 11:30 p.m GMT, and run over into the early hours of Monday, Feb. 13.
For those sticking around for the highly-anticipated halftime show, that will air at approximately 1:30 a.m GMT.
There are two options for watching the Super Bowl in the UK. From 2015 to 2022, the BBC held rights for broadcasting the popular American game but last summer, ITV1 signed a three-year deal with the NFL, so Super Bowl LVII is being broadcast live and free-to-air on the channel. The live-stream will also be available online on the ITVX app and the ITV website.
Additionally, Sky Sports will air the Super Bowl live on their dedicated NFL channel. However, you will need to have Sky Sports in your subscription package to watch or you can stream Sky Sports through NOW's streaming service.
Who Is Performing In The Super Bowl LVI Half-Time Show?
Making itself a contender for one of the most memorable half-time shows ever, this year's Super Bowl will be hosting Rihanna. The beauty mogul and singer will be performing live in public for the first time in five years at the iconic sporting event. While more musicians are soon to be added to the list, country singer Chris Stapleton will perform the national anthem and R&B artist Babyface will perform "America the Beautiful" before the game.
Last year's record-breaking lineup for the Super Bowl half-time show included Eminem, Dr Dre, Snoop Dogg, Kendrick Lamar, and Mary J Blige.
Super Bowl LVII kicks off on Sunday, Feb. 12 at 11.30 p.m. in the UK.
This article was originally published on