Everything To Know About Only Murders In The Building Season 2
The true-crime podcasting trio has a new case to solve.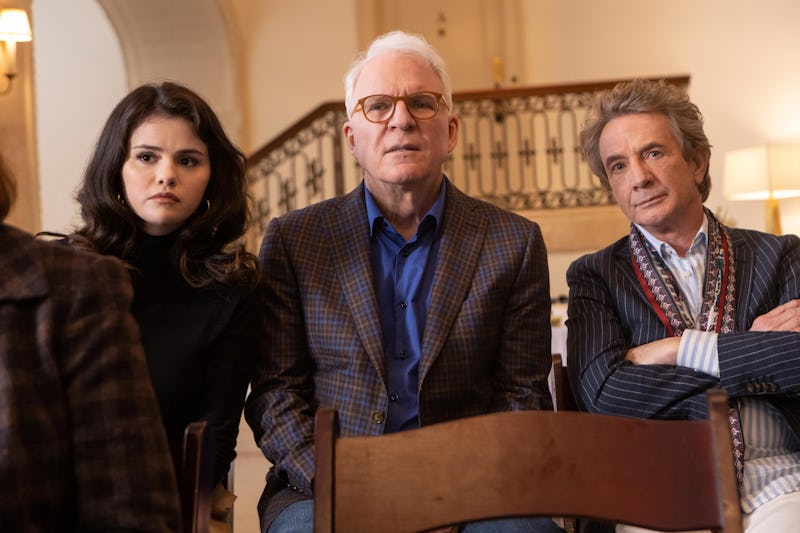 Craig Blankenhorn/Hulu
Only Murders in the Building may have concluded its first murder mystery, but Mabel (Selena Gomez), Charles (Steve Martin), and Oliver (Martin Short) aren't moving out of the Arconia just yet. In September, Hulu renewed the breakout comedy for a second season. "Only Murders in the Building reflects the kind of creative excellence that is the hallmark of Hulu Originals," Craig Erwich, the president of ABC Entertainment and Hulu Originals, said per Deadline. "The audience's response to the delightful blend of mystery, humor and emotion in the show has been overwhelming and we can't wait to follow this unlikely trio on their next adventure."
The series follows a trio of true-crime obsessives who start a podcast after finding themselves sucked into a murder mystery in the apartment building they all live in. Martin, who co-created the show alongside John Hoffman, said he thought of the premise when the host of a party he was at suggested he write something for three "older Broadway actors" who were also attending. "The idea came almost immediately, that they lived in a building and they all were interested in crime," Martin told the New York Times. "But they didn't have the energy to go downtown, so they would only [investigate] murders in the building."
Later, Hoffman and Martin decided that they didn't want the three leads to be too similar, so Gomez was brought in to play Mabel, a younger resident at the Arconia. "Don't we want an alien in their world? The thing that we're not expecting, that doesn't make sense?" Hoffman told the Times of their thought process.
Season 1 opens with the mystery of who killed Tim Kono, a childhood friend of Mabel's. Season 2 will likely follow the trio as they investigate a new crime, though it begs the question of why they're continuing to live in a building that apparently has so many criminals. Here's everything we know so far.
Only Murders In The Building Season 2 Trailer
Two weeks before the show makes its highly anticipated return, Only Murders in the Building released the first official trailer for its second season. Introduced by stars Selena Gomez, Martin Short, and Steve Martin, the trailer for the Hulu comedy series not only teases a new murder mystery but also several new characters, played by Amy Schumer, Cara Delevingne, and Shirley MacLaine.
Only Murders In The Building Season 2 Premiere Date
Only Murders In The Building Season 2 will premiere its first two episodes on June 28.
Only Murders In The Building Season 2 Plot
Following the death of Arconia Board President Bunny Folger, Charles, Oliver, and Mabel get to work hunting down her killer, However, they hit a few unfortunate snags: The trio is publicly implicated in Bunny's homicide, making them the subjects of a new competing podcast and attracting unwanted attention from a bunch of New York neighbors who all think they committed murder.
Only Murders In The Building Season 2 Cast
The main trio of Mabel (Gomez), Charles (Martin), and Oliver (Short) will all return. In late 2021, Gomez posted a TikTok video with Short and Martin on the Season 2 set. "Day one -back with these dads," she captioned it. Considering Martin, Short, and Gomez each have a lot of famous friends, you can expect to see plenty more familiar faces — and celebrity cameos — walking the halls of the Arconia.
One of the first newcomers attached to Season 2 was supermodel Cara Delevingne (Suicide Squad). According to a Dec. 1 Variety report, Delevingne will be a series regular who plays Alice, a "sophisticated art world insider" who gets entangled in the story.
On Jan. 12, Short, who also serves as executive producer, revealed other new names joining the show. "Before Christmas, [I shot scenes with] Shirley MacLaine and Amy Schumer," Short told Deadline. "The quality of actor that this show is attracting makes it endlessly fun to go to work." He also shared that he already shot a scene with Tina Fey, confirming she'll reprise her role as Cinda Canning, the host of a successful true crime podcast.
On Feb. 9, it was Martin's turn to reveal who else is joining the next season. He posted a photo on Twitter on set with Gomez, Andrea Martin (My Big Fat Greek Wedding), and Zoe Colletti (Annie). The two newcomers' roles are still unknown.
Two days later, Deadline announced Michael Rapaport (Atypical) is set to join the cast. He'll play Detective Kreps, who's "involved in the new murder case introduced in the Season 1 finale."
Perhaps the confirmation fans have been waiting for was Nathan Lane. On Feb. 14, Lane revealed he's reprising his role as Teddy Dimas, the deli chain owner who at some point becomes a prime suspect in the murder investigation. Speaking about his "interesting" return, Lane told Deadline, "I come back. I can't tell you how but I do come back." He adds, "He did not commit the murder but they were grave robbing," before promising "a big surprise."
This article was originally published on