This Scene From The Succession Election Episode Has Fans Reeling
"When your sister pisses you off and you decide to destroy democracy."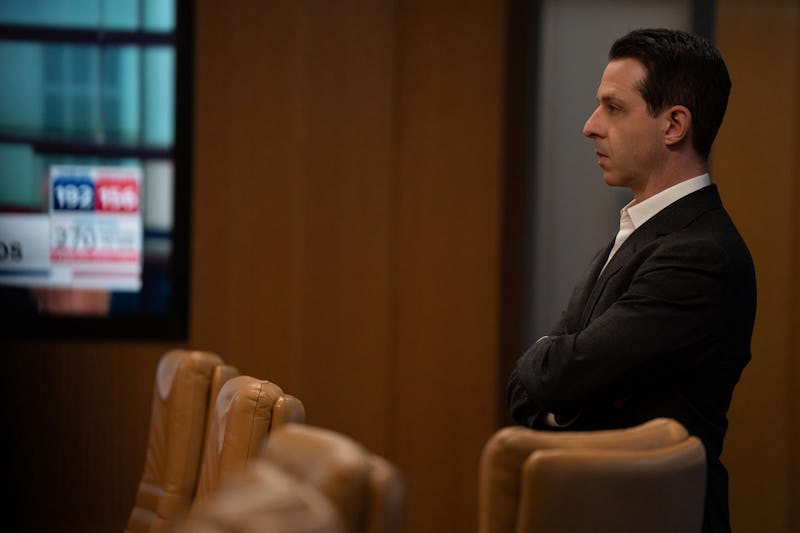 Macall Polay/HBO
The final stretch of Succession is upon us — but as the May 14 episode proves, the fate of our favorite characters (and who to root for) has never been murkier. In the ironically titled "America Decides," it ended up being a personal argument between the Roy siblings that determined the outcome of the election — which ended in what other characters consider a fascist's favor. Justin Kirk, who plays Jeryd Mencken, told The Hollywood Reporter he's aware of how the plot hits close to home. "Succession often feels not necessarily a mirror, but like five minutes from now," he said. "And it definitely feels that way in this case. Jeryd Mencken is a figure who isn't necessarily [based on] a specific dude, but he feels like he very well might be."
To recap, because those last 20 minutes were a lot: Kendall and Roman wanted to secure Mencken's win, since the alt-right candidate promised he'd block the GoJo deal (thus keeping Waystar in the family's hands). However, Kendall was willing to hear out Shiv's concerns on the matter. "He says the bad sh*t, he believes the bad sh*t," Shiv warned. Kendall countered that ATN calling the election in his favor didn't actually make it so. "Sure, we might not be able to crown him, but we can stop him. He gets momentum tonight, it makes it possible. He needs our call."
Kendall ultimately encouraged Shiv to work out a deal with Nate, the political strategist (and Shiv's former fling) in the rival candidate's camp. A fair compromise, right? Except, Shiv only pretended to make the call. She never talked to Nate about stopping the GoJo deal, because she wanted it to go through! Once Kendall learned this, he firmly sided with Roman and decided to call the election for Mencken.
Viewers on Twitter reacted to the bleak ending, starting with the trauma of Election Day — which, director Andrij Parekh confirmed to Vanity Fair, was partially inspired by the 2016 election.
Others were wrecked to see the Roy brothers support Mencken in that crucial moment.
For many viewers, of course, it was simply heartbreaking to see the siblings at odds with each other like never before.
The preview for the next episode (the penultimate entry of Succession ever!) teases Roman's eulogy at his father's funeral — which is attended by both Mencken and Matsson, which seems to portend even more drama for the siblings. From Kirk's perspective, shutting down the GoJo deal isn't necessarily a given. "I saw that Roman says [Mencken will kill the deal], but I don't know if that necessarily means — we don't see me say it," he told Variety. "I was shocked to see that. I don't know if you can count on any of it."