Netflix's Survival Of The Thickest Adapts Michelle Buteau's 2020 Memoir
The comedian calls it her "dream show."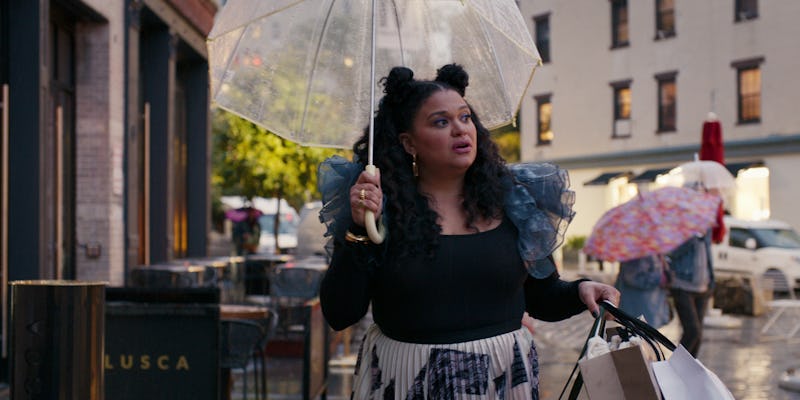 Netflix
Based on comedian Michelle Buteau's memoir of the same name, Netflix's Survival of the Thickest follows a woman's journey to level up her life and career after a breakup. "Black, plus-size and newly single (not by her choice!), Mavis unexpectedly finds herself having to rebuild her life as a struggling stylist," reads the official synopsis. "She's determined to not only survive but thrive with the support of her chosen family, a body positive attitude, and a cute v-neck with some lip gloss."
The series marks an exciting milestone for Buteau, who also hosts The Circle on the streamer. Though she's worked on a variety of projects — from BET+'s First Wives Club to recent rom-coms like Marry Me — Survival of the Thickest marks her most significant and personal role yet.
"I always say that today's assistant is tomorrow's executive," the comedian told Allure in 2020. "Do I want to be playing the best friend forever? No. Do I want to be the bridesmaid and never the bride? No — but the fact that I keep making waves towards that goal is a big deal."
Fortunately, Buteau's new series is right around the corner. Here's everything to know about Survival of the Thickest, including its summer release date and a first look.
Survival Of The Thickest Cast
The new Netflix series stars Buteau as Mavis Beaumont, the protagonist inspired by the actor in her memoir. Also joining the Survival of the Thickest cast are Tone Bell, Tasha Smith, Liza Treyger, Anissa Felix, Garcelle Beauvais, Taylor Selé, Anthony Michael Lopez, Marouane Zottie, Allan K. Washington, and Sarah Cooper.
Survival Of The Thickest Release Date
Can't wait to watch? Mark your calendar: Survival of the Thickest drops its eight-episode season on July 13 on Netflix.
Survival Of The Thickest Trailer
Netflix unveiled the first look at Survival of the Thickest on May 24. The teaser introduces Mavis' personal and professional life, and her one major goal: "I want to dress women, and help them love their bodies." That's a key message in Buteau's memoir, too, where she writes about her life, career, and her own relationship with her body — including the breast reduction that made her feel "free in a way that [she] hadn't been since before puberty."
In a recent Instagram post, Buteau described Survival of the Thickest as her "dream show" — and took a moment to recognize the people who made it happen.
"Now without this boss ass, petite boutique, zoom room of writers, those peeps wouldn't have a job," Buteau wrote, voicing her support for writers amid the ongoing writers strike. "There would be no story to shoot. Writers. Are. Essential."