Rain Spencer Is More Than The All-Knowing BFF
The Summer I Turned Pretty star tells Bustle about Taylor's Season 2 transformation.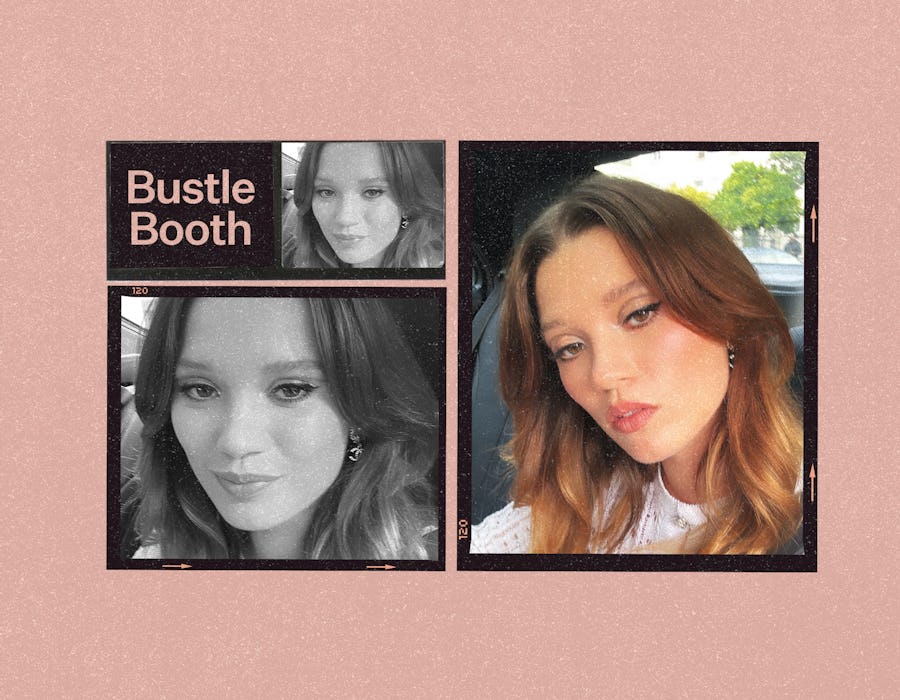 From Rory Gilmore to Andy Sachs, a fictional figure getting bangs is a Moment: a signifier that she's stepping into a new (and maybe more impulsive) era of self-discovery. So when Rain Spencer first sported a new fringe in Prime Video's The Summer I Turned Pretty Season 2 — based on Jenny Han's novel trilogy of the same name — it was a clue that her character, Taylor Jewel, was in for a transformative on-screen journey.
"That's a vision that Jenny had," Spencer tells Bustle over Zoom in late June, before the SAG-AFTRA strike. The author and co-showrunner urged the new look for Taylor ahead of Season 2, and the 23-year-old actor happily obliged, despite never having made such a big change. The risk paid off. "I love it," she says. "I was like a different person with the bangs."
Like her new look, the second season also ushers in a different era for Taylor. She's still the ride-or-die best friend of Isabel "Belly" Conklin (Lola Tung), who's dealing with grief and an ever-complicated love triangle between brothers Conrad (Christopher Briney) and Jeremiah Fisher (Gavin Casalegno). But after being promoted to a series regular in Season 2, Spencer — who grew up in Wilmington, North Carolina, where the show films — has room to explore what makes Taylor tick. The new Taylor looks more confident, has a musician boyfriend, Milo (Will Spencer), and seems unfazed by her childhood crush, Steven (Sean Kaufman).
Still, there's more to her under the surface. "Taylor is someone that has a lot of walls and is very scared to be vulnerable," she says. "This season, you get to [see] her break down those walls."
Spencer has done just that in her own career, too. Within a month of the show's debut last year, she won Best Performance in a U.S. Narrative Feature at Tribeca for her work in Good Girl Jane. The drama, which follows a teenager's struggle with drug use, is drastically different from the sun-kissed conflicts of Cousins Beach. But for Spencer, having her first two major roles be so disparate was a good thing.
"I really like to challenge myself, and go places, and try out different characters that I never would have thought of," the actor says. "There was a moment in time when I was just in acting classes and hadn't done anything, and I didn't feel like I had that 'it girl' in me." Now, Spencer says she's harnessed her inner Taylor and feels brave enough to branch out — like with her latest project, a sci-fi horror film that shot in Portland, Oregon earlier this summer.
After spending much of the past two years making and promoting Summer and other projects, the actor ultimately learned the importance of decompressing between jobs. Although Taylor might get her energy from an impromptu party, Spencer's go-to means of recharging looks slightly different: painting, exploring nature, and hiking with her 60-pound dog, Ozzy.
"I need to feel dirty. You go to these events and dress up in these fancy things," she says. "And I just need to go, like, fall off my skateboard."
Learn more about Spencer in her Bustle Booth questionnaire below.
In The Bustle Booth
What's your coffee order?
Dirty chai with almond milk.
What are the saved weather locations on your phone?
Los Angeles, Portland, New York, Kauai, Malibu, Medellin, Joshua Tree, Wilmington, London, Santa Monica.
What's your sign?
Pisces.
Favorite overused movie quote?
"I have come here to chew bubble gum and kick ass… and I'm all out of bubble gum." — from They Live
What was your favorite cartoon as a kid?
When I was really little, it was The Powerpuff Girls… and then it became Family Guy.
What's one movie or TV show you're currently obsessed with?
Barry lol.
Who is your celeb idol?
Erykah Badu. I aspire to be as unapologetically myself.
If you had to be on a reality TV show, what would it be?
Jury Duty as one of the actors. That had to be hilarious.
Go-to karaoke song?
I always make it into a joke and sing like "Celebrity Skin" by Hole or "Big Girls Don't Cry." I get so nervous.
What's something that's inspiring you lately?
I'm filming a movie in Oregon right now, and the trees are so beautiful, and the air is so clean that it makes me want to get off my phone.
What is something you would want people to say about you?
I would want people to say that I'm kind and grounded.