Costa Is Turning The Most Divisive Quality Street Into A Hot Drink
The Christmas 2021 menu is here & more chocolate-filled than ever.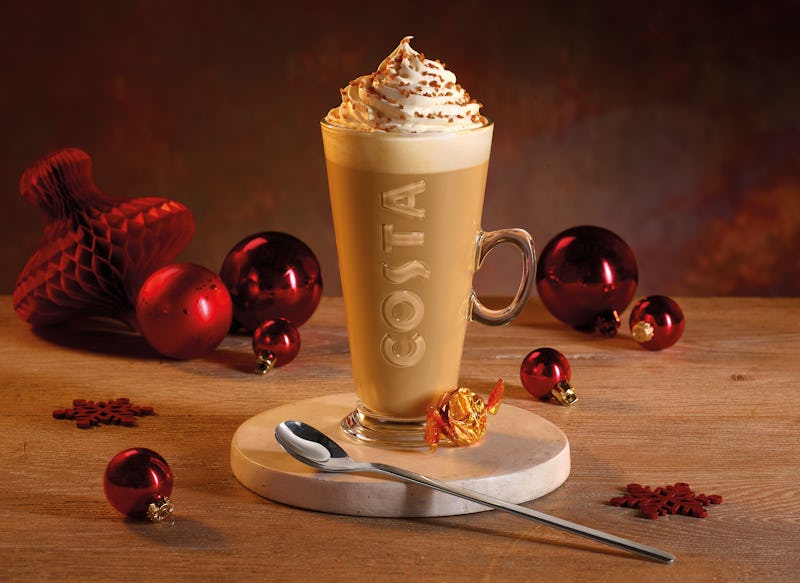 Costa
Easter may be the reigning holiday for chocolate, but nothing beats a tin of your favourite Christmas chocolates. Last year, Costa launched their ambitious Christmas menu combining coffee with the nation's favourite sweet treats – including Quality Street chocolates and Terry's Chocolate Orange – and this year the Costa 2021 Christmas menu will continue the tradition. Keep reading to find all the details you need about the drinks and snacks on offer in the lead up to December 25.
Forget the Quality Street tin, After Eight mints, and Terry's Chocolate Orange slices, because from Nov. 3, 2021, you'll be able to experience these treats in latte and hot chocolate form.
On the caffeine side of things, the popular Purple One from Quality Street makes its return as a latte with "a rich caramel chocolate sauce and roasted hazelnut syrup." Joining the crew this year is one of the most divisive treats in Quality Street tin: the Toffee Penny. This latte will be "blended with a rich golden caramel sauce, topped with a light dairy swirl, and sprinkled with crunchy caramel toppers." If you love a classic, you can switch up your mocha-Italia blend with the limited-edition Winter Character Roast, featuring "warming spices, dark cocoa and berries." And gingerbread lovers have not been forgotten. Not only will the Gingerbread Latte be returning, but it will now be available in cans, too.
On the hot chocolate front, Costa has infused peppermint into an After Eight options and orange syrup into a Terry's Chocolate Orange one. As with the latte, both these drinks come with their respective After Eight thin and Terry's Chocolate Orange slice.
Speaking of snacks, Costa is bringing back the Terry's Chocolate Orange Muffin and the After Eight Muffin as well as introducing a range of brand new sweet treats. This includes a Clementine and Cranberry Loaf Cake, a Golden Billionaires cake, and a Chocolate Sparkle Cake (which is filled with hazelnut and has chocolate-flavoured frosting).
The Vegan Father Christmas Gingerbread, Jammy Rudolph Shortcake, and the Crispy Chocolate Stars are all firm favourites and will be joined this year by the Reindeer Cake, finished with cute chocolate antlers and a red nose.
On the savoury side of things, Costa is bringing back the festive British Pork & Bramley Apple Sausage roll and British Turkey & The Trimmings Toastie. And for fans of pigs in blanket, you can now buy their limited edition Maple Glazed Pigs in Blankets Potato Chips. There's also the show-stopping Vegan Turkee, Cranberry & Stuffing Bloomer to dig into as well.
This article was originally published on