The Parent Trap's Elizabeth James Was Basically Princess Diana & These Looks Prove It
The two women have distinctly similar tastes in fashion.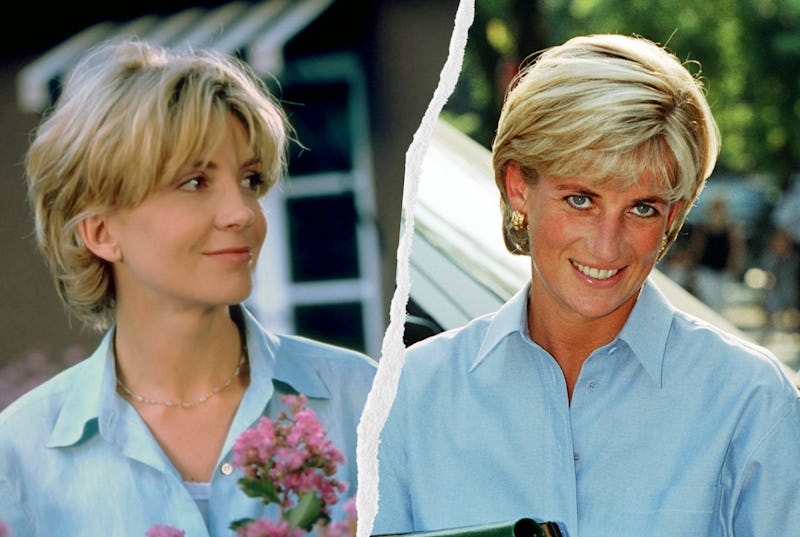 Tim Rooke/Shutterstock / Disney/Kobal/Shutterstock
Do you ever watch a film and just sit there and think, "Who on Earth does that actor remind me of?" Well, while re-watching a movie recently (it was for research purposes, I swear), I had that exact thought when Elizabeth James in The Parent Trap — aka the late British actor Natasha Richardson — came on screen. And the person she reminded me of? The late Princess Diana.
After a little nose around social media, I discovered I'm not the only one who's had this thought while watching the 1998 classic. In fact, it turns out a few people actually thought that Richardson and Princess Diana were the same person.
Whatever your thoughts on this, it's hard to deny that the resemblance between the two women is striking. Richardson's decidedly '90s haircut in The Parent Trap is straight out of the Diana playbook, with Elizabeth James rocking a short blond bob and fringe. Then there were James' outfits. Oh, the outfits. So chic, so elegant, so distinctly Diana.
"Elizabeth James' look in the classic film The Parent Trap was very similar in style aesthetic to Princess Diana's, especially post-divorce from Charles," NYC-based stylist Alison Bruhn tells Bustle. "Both women wore timeless pieces — understated but elegant."
Did costume designer Penny Rose use the princess as inspiration? While she's never said for certain, I can't help but think at least one image of her was pinned on Rose's mood board. Still not convinced? Just keep scrolling.
This article was originally published on