"Sticker Sleeve" Tattoos Are The Trending Way To Rock Macro Ink
Turning negative space into cool artwork.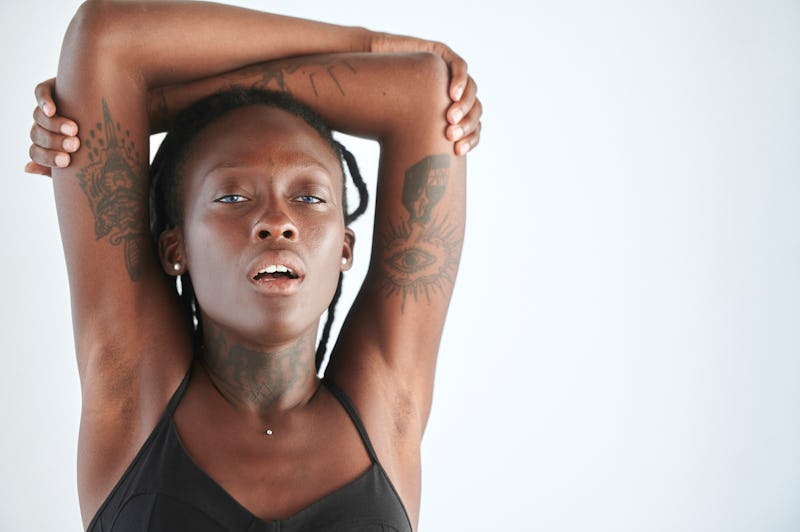 Getty Images/F.J. Jimenez
If you hear someone talking about a "tattoo sleeve," you'd probably think of the densely packed versions that basically cover the arm completely with ink (and look like, well, a sleeve). Those are a classic variety of macro ink, but there's a more modern, daintier take on a traditional sleeve trending in the tattoo world: the "sticker sleeve." With this iteration, the wearer's arm is peppered in smaller, individual tats that leave lots of gaps and plenty of negative space — and look almost like, well, stickers.
The options for sticker sleeve tattoo ideas are plenty and super versatile. Your different artworks could be totally random and unique — or they could work together to tell a story or follow a theme. For instance, maybe you're all about a floral sticker sleeve, or food-inspired tattoos, or you want to interpret the cosmos via twinkling stars and constellations. As tattoo artist Pobi of Ink & Water Tattoo in Brooklyn previously told Bustle, "Make sure the only opinion you're relying on is your own. People tend to overthink when they get a lot of different opinions — go with your intuition." It's your body art, after all.
Whatever ink you decide on, remember to follow your artist's instructions closely when it comes to tattoo aftercare. Specifics could vary by artist, design, or even climate, but they often include avoiding baths, swimming, and direct sunlight, plus keeping the area properly moisturized. Ahead, discover 11 sticker sleeve tattoo ideas that are sure to turn everything you thought about sleeve tattoos on its head.