How To Feel More Comfortable Having Sex On Top
Forget what you saw in porn.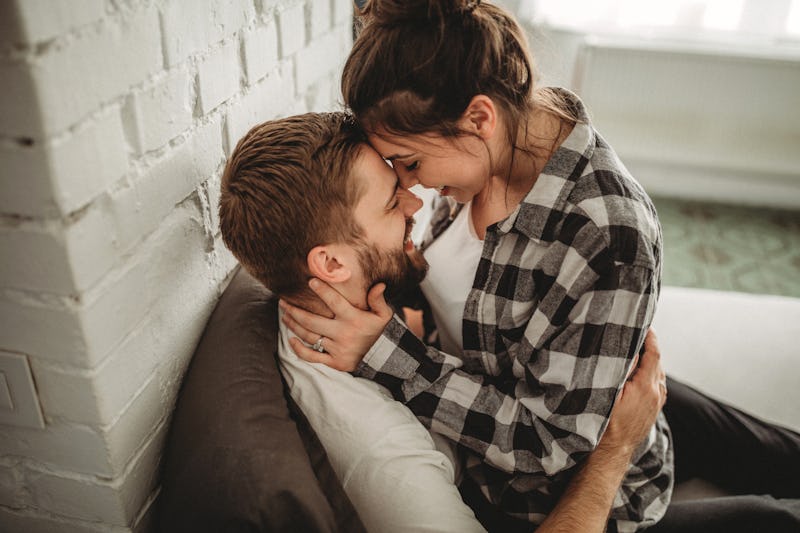 eclipse_images/E+/Getty Images
While you might like the idea of climbing on top of your partner and going to town in the "cowgirl" position, it isn't always easy to know how to move during sex, particularly when you're the one in control. You might feel held back by insecurity, lack of experience, or a lack of confidence. But if you follow a few tips for enjoying being on top, you'll be riding your partner like a pro in no time.
And hey, it definitely is a worthy goal. According to Vanessa Marin, a sex therapist who specializes in helping people have better relationships, "girl on top" just so happens to be one of the best positions for orgasm. Unlike missionary, or other positions where your partner chooses the pace, cowgirl is all you. It's part of the reason why it can be so fun — you get to be on full display and control the pace.
Of course, the very same things that make "riding cowgirl" so great are exactly what can make it intimidating. "A lot of people feel self-conscious about being on top," Marin says. There's also a lot to think about, body-wise. "Insecurities come in the form of how someone will perceive their body shape, not having confidence in their sexual moves, or knowing what to do when they are on top," Marla Renee Stewart, MA, a sexpert for the sexual wellness brand Lovers, tells Bustle. "There's insecurities in knowing what will be pleasurable and how to go about getting that pleasure. There's also the thinking about stamina and how your bodies will align and other physical aspects of the sexual dynamic."
The best way to move past all of that? Practice, communicate, practice some more, and remember to have fun. Here are nine tips for feeling more confident on top, according to experts.
1. Give Yourself Permission To Feel Good
It's really easy to get in your head while on top and put pressure on yourself to have "all the right moves." But Marin says there are no "rights" or "wrongs" when it comes to being on top. The most important thing is to figure out what feels right to you.
That might mean closing your eyes and zeroing in on the sensations. If you feel distracted or self-conscious, flick off all the lights so that you don't have to think about what you look like from your partner's perspective. Sure, a few thoughts might pass through your head, but reel them back in and refocus on what's going on down below.
2. Don't Compare Yourself To Porn
According to Marin, one of the reasons so many people get stressed out about cowgirl is because of the way it's filmed in porn. She says many performers bounce up and down and exert a lot of effort, but that isn't necessarily how it has to work in your life.
If all of that motion doesn't feel right, that's OK. Cowgirl can be a relaxed position, too. Try sticking to a smaller range of motion, moving slower, and grinding on your partner instead of bouncing.
Your partner can lie flat on their back while you straddle them. Lower down onto their penis or strap-on and slowly start to rock back and forth. Experiment with clockwise and counterclockwise movements.
To change the angle, put your hands flat on the bed on either side of their head and lean forward towards them. Then try sitting back up again and leaning backwards slightly. Each time you try something new, compare it to the other things you've tried, Marin says. It might make the position easier — and more enjoyable — if you go at your own pace.
3. Practice By Yourself
If you're feeling shy about jumping right into experimenting with your partner, feel free to practice on your own to get a clearer idea of what the position is like.
Since cowgirl is all about how you move your hips, Marin suggests getting on your knees on your bed and stuffing a pillow between your legs. Even though it might feel silly, she says it's a great way to figure out what you like as you get used to the movement.
If you have a wand-style vibrator, you can even hold it upright on the bed and mount it, Marin says. That'll give you even more of a sense of what it'll feel like to ride a partner.
4. Get Turned On
Foreplay can help, too. "If you want to be more confident on top, or with any sexual experience, get turned on first," Dr. Jess O'Reilly, PhD, a sexologist and ASTROGLIDE ambassador, tells Bustle. This might mean watching a sexy video, touching yourself, or sexting with your partner.
"As you become aroused, the oxytocin and endorphins can help to lower inhibitions and allow you to tune into the moment instead of 'spectatoring' or worrying about how your partner feels," O'Reilly says. "Tune in to your own pleasure and experience, and you'll likely feel more confident regardless of the position!"
5. Take A Class
Another tip? If you want to learn more about this position, build your strength, and ask someone a whole bunch of questions, consider signing up for a class. "Taking classes about how to ride or navigate sexual positions is a great way to get informed about the things that you need to do," Stewart says. "There are a few educators who teach erotic fitness classes to ensure that you have the stamina to keep it up!" Do a quick search for videos online and see what you can learn.
6. Practice, Practice, Practice
If you pick up a new tip in class (or get to the end of this article) find a time to hop into bed with a partner to give it a try. "Practicing something educates you more about your body and someone else's body and therefore, with more practice comes more ingrained knowledge on what you need to do," Stewart says. 'The more you know, the more confident you will feel about the situation."
7. Ask Your Partner To Take The Lead
Another way to explore cowgirl is by asking your partner to grab your hips and move you around. This is not only super hot, but it also takes the pressure off you being the one to orchestrate everything. Try out different movements, speeds, and levels of penetration that feel good to you both.
8. Get The Rest Of Your Body Involved
Once you figure out how to move your hips while on top and feel more comfortable with the basic idea of cowgirl, Marin recommends reaching your hand down and touching yourself as you grind against your partner. This will make it easier for you to have an orgasm and your partner will love being able to watch. You can also ask them to touch you or use a vibrator. The more you both get into it, the less awkward it'll feel.
9. Keep Talking To Your Partner
It always helps to chat things out. "Communicate about your feelings before entering the bedroom and attempting the act," Samantha, Heuwagen, LMFT, ACS, a therapist and sex therapist, tells Bustle. If you're feeling nervous or awkward, let them know.
And keeping talking all throughout. "Be open and honest about what is going on for you so they can be there as an ally and support system," Heuwagen says. "Nothing is worse than keeping these feelings to yourself!"
As you figure out cowgirl, keep reminding yourself to focus on finding what feels good for you. And remember, it's all about having fun!
Experts:
Vanessa Marin, sex therapist
Marla Renee Stewart, MA, sexpert
Dr. Jess O'Reilly, PhD, sexologist
Samantha, Heuwagen, LMFT, ACS, therapist and sex therapist
This article was originally published on