7 Strategies For Dealing With Political Debates Over The Holidays
'I' statements, empathy, and knowing when to leave the table are key.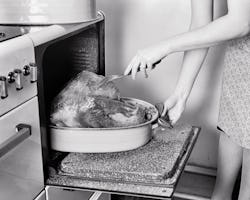 H. Armstrong Roberts/ClassicStock/Archive Photos/Getty Images
The holidays are basically tomorrow, and whether you're having a Zoom family Thanksgiving or are getting everyone tested before descending on Dad's house, there's bound to be some holiday drama — particularly in an election year. Finding ways to stay calm during a political debate with family members over the holidays can help you get through the end of the year.
Part of what makes political debates so painful when they take place with family is that many people have formative memories of feeling neglected at some point or another by loved ones. So when you venture a political belief, supported by strong emotions, and that belief gets cast aside, judged, ignored, or criticized, it can feel like you're being cast aside, judged, ignored, or criticized, too. Sometimes, it's not about the politics as much as it's about childhood feelings floating very close to the surface during the holidays, ready to bubble over at the first mention of mail-in ballots.
Remaining aware of your personal traumas — which can involve childhood pains or identities that your family doesn't understand — is helpful in keeping a healthy emotional distance when it comes to political debates. Here are some other actionable tips to keep yourself calm this year.
Experts:
Seon Kim, licensed marriage and family therapist
Nicole Richardson, licensed marriage and family therapist
Anita Chlipala, licensed marriage and family therapist
This article was originally published on