35 Sexy Texts To Send Your Partner
When you're looking to keep things frisky but not risqué.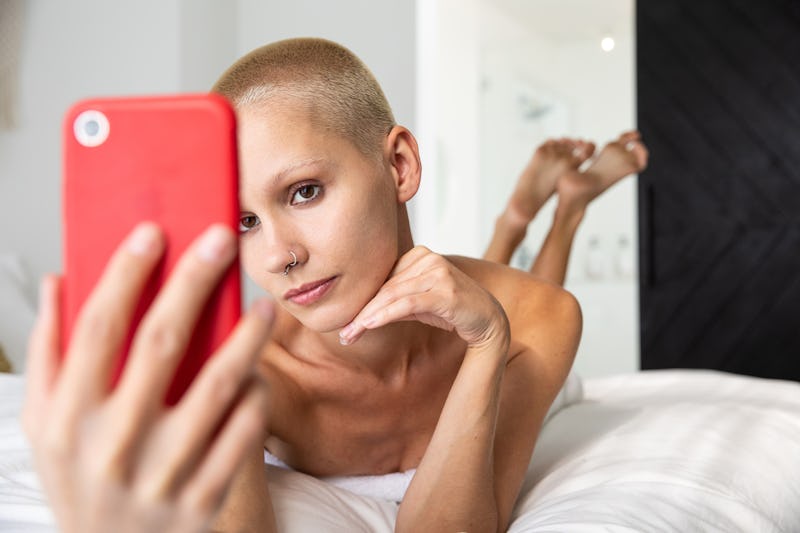 LeoPatrizi/E+/Getty Images
When you're trying to get flirty with your partner but not fully X-rated, knowing some sexy texts to send a partner can turn up the heat without boiling over. Maybe you're 30 minutes into your fourth Zoom meeting of the day and you're feeling a little sensual but don't want to full-on sext. According to Dr. Carla Marie Manly, clinical psychologist and author of Joy from Fear, sexy texting can feel fun and exciting, especially in long-term relationships.
According to Manly, sexy texting is fun and exciting, but it also helps build your connection. "All relationships require care and maintenance," she tells Bustle. "When sexual intimacy is nurtured as an important element, the relationship tends to stay very bonded over time."
Sexy text messages are also great if your initial new-couple, smoking-hot energy has started to fade. As Manly says, it's easy for the sexy stuff to get put on the back-burner. When family, work, school, and general life take over, you don't always have time to give your partner some extra loving. Because sexual intimacy is important in a relationship, though, finding little ways to keep the flirty feelings going can help you and your lover feel desired and connected.
Engaging in these sort of steamy texts show you care, that you're close even while apart, and that you're really looking forward to that spicy Zoom call. (Wink wink.) Whatever your reason to keep things frisky, these 35 sexy texts are a great place to start.
Sources
Dr. Carla Marie Manly, clinical psychologist and author of 'Joy from Fear'
This article was originally published on