30 Non-Awkward Ways To Text Someone You Haven't Talked To In A While
"Remember when we pulled that all-nighter in college?"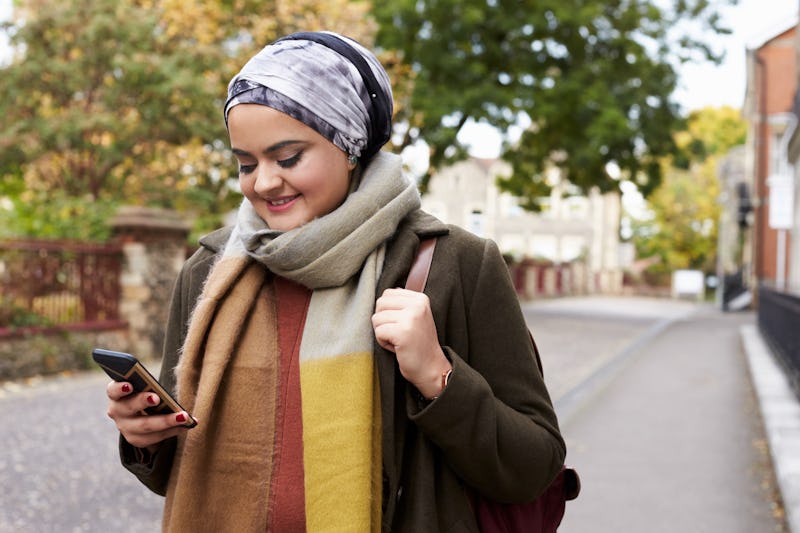 Shutterstock
Did you move away from a childhood bestie? Lose track of a favorite coworker? Or forget to text back your college roommate, and now it's been... 10 years? Whatever the case, there may come a time when you want to get back in touch with someone from your past and catch up. Whether the goal is exchanging a few quick stories or reviving the lapsed friendship, the first step is sending an opening text.
But what on earth do you say to someone after a long period of not talking to them? According to licensed clinical psychologist Dr. Holly Schiff, it's not uncommon to feel awkward or at a loss for words when sending a message to a friend after a long time. "We naturally drift away from others over time," Schiff says, so you might worry that they've changed, that they won't want to talk, or that they're mad at you for ghosting them.
It's nerve-wracking, but therapist Jennifer Vandegriff, LCSW, says you shouldn't let awkwardness, pride, nerves, or even guilt stop you from texting an old friend and seeing what's up. Chances are they'll be happy to hear from you, or at the very least will be flattered that you reached out.
How To Decide Whether To Text Someone
When you're deciding whether to message a friend you haven't talked to in a while, friendship expert and psychologist Dr. Marisa Franco, Ph.D., tells Bustle it's important to look back and examine the dynamic of the friendship. "Most friendships actually end because they fizzle out and people forget to contact each other," she says. In this case, she says to go for it and reach out.
"But if it was more sticky endings, like you got into conflict, you know something was wrong, [or] maybe there was a disrespect, violation of boundaries, [or] some sort of betrayal — then I would say there definitely needs to be more intentionality about thinking through why you want to reach out." She suggests a few things to reflect on to help you make your decision. Ask yourself how things are going to be different this time, and think about what has changed that would make the friendship work this go-around. Another question Franco recommends asking yourself: Was this a healthy friendship? "Often we enjoy people's company, but that doesn't mean they're a good friend," she offers.
Another thing to ponder is why you want to rekindle things. Oftentimes, it's due to loneliness and feelings of emptiness and lack, Franco explains, "and when we're feeling lonely, we can be driven to do things that aren't in our best interest in the long term." Ultimately, you'll want to examine whether resurrecting your friendship is going to add to your life or if it's simply going to be compensating for something else that's missing.
How To Approach The Message
The kind of message you craft will depend on the nature of your friendship and how it ended. "If it's just a fizzle out, I think you can anchor it in, 'I was just thinking about this memory that we shared and wondering how you're doing,'" offers Franco. "Or you can say, 'Hey, it's been a while, I've missed you, just wanted to check in and see how you're doing.'"
Your mindset is what's important, Franco tells Bustle. "I think often people don't reach out because they think this other person has moved on, [they think] 'they don't care about me,'" she says. Instead, she's a proponent for optimism — assume they will be ecstatic to hear from you. "That's the sort of mindset that's really going to help you move forward and reach out to this person," she says.
If you didn't end on such great terms, you'll want to address the issue head-on. "You can do that in a more subtle way, just acknowledging, 'Hey, I know that things were really difficult for us for a while, but I totally would be interested in rekindling things if you might be open to it,'" Franco advises. Otherwise, if you just gloss over it and text them as if everything is fine, it can seem like you're ignoring or denying something.
If you miss someone who used to be in your life, scan through these 30 sample texts to send to old friends, choose the one that feels right, and fire that thing off.
Experts:
Jennifer Vandegriff, LCSW, therapist
Dr. Marisa Franco, Ph.D., psychologist and friendship expert
Lisha Davidovits, ACC, CPCC, CPQC , success coach
Dr. Rebecca Leslie, licensed psychologist
Nicole Arzt, LMFT, licensed marriage and family therapist
Jennifer Vandegriff, LCSW, therapist
Candice Conroy, MA, LMHC, licensed mental health counselor
Jennifer L. FitzPatrick, MSW, LCSW-C, CSP, certified speaking professional
Dr. Kimberly M. Martin, clinical psychologist
Sulonda Smith, LMFT, CLC, licensed marriage family therapist and certified life coach
Keith J. Myers, PhD, LPC, NCC, ACS, licensed professional counselor
Dr. Markesha Miller, licensed psychotherapist
Lisa Andresen, ASW, therapist
Christine Scott-Hudson, MA, MFT, ATR, licensed marriage and family therapist
Dorlee Michaeli, MBA, LCSW, licensed clinical social worker
Dr. Carla Marie Manly, clinical psychologist
Chelsea Austin, life coach
Tiffany Roe, MA, CMHC, therapist
Jenna Watson, life coach
This article was originally published on