All Hail The "Single Girl Supper"
It's the 2020s version of dinner and a movie.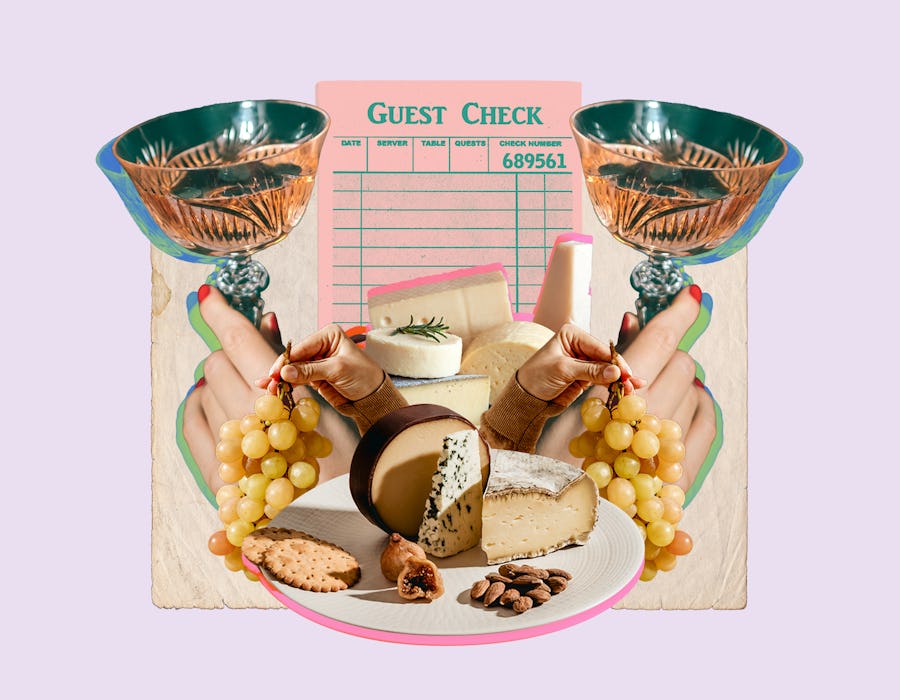 The other night, on a first date at a cozy bar in Brooklyn, I got acquainted with my Bumble match over two glasses of chenin blanc and some bites of Gouda and cheddar. A few weeks before that, I met a date at a French bistro in Manhattan, where I sipped on two rounds of sauvignon blanc and we shared a spread of brie and baguettes.
I've had this exact combo — two glasses of wine and half a cheese plate — so many times, I'm giving it an official name: the Single Girl Supper. It's the ultimate first date order, and I'm not the only one who thinks so.
This pairing is ubiquitous because it hits all the right notes: It's sexier than coffee, more romantic than beers and fries, and less pressure than dinner. One round of drinks isn't quite enough time to gauge if you're into someone, and three rounds can get sloppy on an empty stomach. Unlike tacos, sliders, or other bar snack staples, a cheese plate is relatively mess-free.
"I don't like full meals for first dates because I think it's too much of a time commitment, but this food option still puts something in our stomachs if we both just came from work," says Emilee, 30, a visual merchandising manager in Houston. She estimates she's been on 100 to 120 dates involving wine, cheese, or both in the past two and a half years.
The finger food is appealingly low stakes. "I like being able to eat small bites with my hands. Something about breaking out cutlery makes everything seem more formal," Emilee says. Alessandra, 28, a writer in New York City, adds, "There's usually so many different little pieces that you don't have to worry about sharing it 50/50. You both just kind of nibble as you go."
Wine and cheese feel less intimidating than a cocktail or entree, and they're usually cheaper. Sharing an appetizer makes splitting the check easier, too. "It's not one of those weird things like, 'Well, you ordered a more expensive dish than I did,'" Emilee explains.
When you order one item to share, you're coming together to make a joint decision — a good sign of compatibility, or at least, the ability to make a polite compromise. Both bode well for your chances as a couple. (Or maybe that's just my wishful thinking.) And there's something intimate about eating from the same plate; maybe your fingers will brush as you both reach for a wedge of brie.
Obviously, the Single Girl Supper isn't just for women. Jeff, a 38-year-old vice president at a digital agency in Washington, D.C., says they make up 75% of his dates. He's a former sommelier, but ironically, his most successful romances have always stemmed from other types of outings. "I love a good wine and cheese date," he says. "[But they're] the 2020s equivalent of dinner and a movie." Classic? Yes. Boring? Maybe.
A few bites of cheese obviously don't count as a real meal. I've had dozens of dates like this that end late; afterward, I'm too exhausted to rustle up an actual dinner. It's fitting, in a way. Eating is more than just sustenance; it has emotional roots, too. Food is a symbol of love, and a Single Girl Supper can often leave you hungry for both.
First dates, while potentially exciting, aren't often the pinnacle of satisfying interaction. At times, the dating scene can feel chaotic. (A recent smattering of mine: There was the "eye bank" worker who cut corneas out of corpses for transplants, a man with a saga about his dad's rumored second family and foot fetish, and a guy with zero Japanese heritage who was apparently getting a massive samurai tattoo. At one bar, Rihanna's "We Found Love" — "in a hopeless place," as you'll recall — played twice in 45 minutes.)
Amid the sea of surprises, however, one thing remains constant: I like wine and cheese. Because of that, the night is never a total bust. Maybe that's why this combo is a classic first-date choice. Over time, I've learned it's better to opt for white wine over red (purple-tinted teeth aren't a cute look), and that a slice of pizza on your way home makes the perfect nightcap. Romantic, low stakes, and neat to eat, the Single Girl Supper reigns supreme.