30 Clever Ways To Slide Into Your Crush's DMs
"I'm jealous of your cooking skills."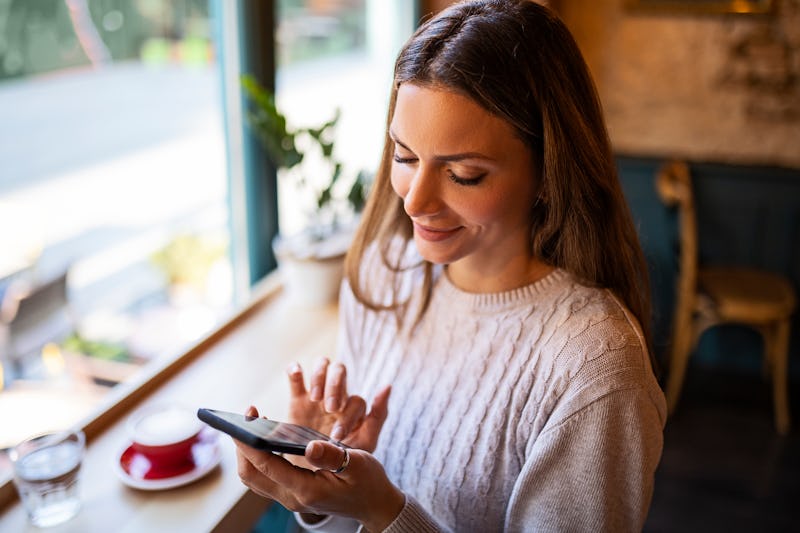 Nastasic/E+/Getty Images
Even after a thorough cyber-stalk through their Instagram grid, it can still be difficult to figure out the best way to send your crush a DM. Plenty of people tend to get anxious about their approach when they first slide into DMs — should you go the funny, flirty, or friendly route? While it's not nearly as big of a deal as everyone sometimes makes it out to be, it's also not a bad idea to get creative and strategic when shooting your digital shot.
According to relationship coach Claudia Cox, it may help take some pressure off if you remind yourself a DM is simply a way to show initial interest. "Like dating apps, it's not meant to be used to find out everything about them," Cox tells Bustle. "It's just to give them enough of you to make them want to meet up IRL."
Another thing to keep in mind when sliding into the DMs is to be your authentic self, according to professional matchmaker and dating coach, Thalia Ouimet. "Cheesy pick up lines are overrated and people want realness," she says. "Be genuine and intentional with your opener and you'll get 80% better results." Her tip? Remember your crush probably doesn't know anything about you, so bring your best foot forward by being kind, polite, and intentional.
Read more: 50 Example Sexting Ideas You Can Use Right Now
To craft the perfect DM, Cox suggests being casual, confident, and not commenting on someone's appearance — however tempting it may be. "Even if they are drop-dead gorgeous, go deeper and try to start a conversation based on things that you are both interested in," Cox says. "Start with a common topic and then transition into other things." Like challenging them to a flirtatiously competitive round of darts, for example.
Whether you're reaching out to an old crush or putting the feelers out with somebody new, here are 30 examples of how to slide into DMs.
Source:
Claudia Cox, relationship coach and founder of Text Weapon
Thalia Ouimet, professional matchmaker and dating coach
This article was originally published on